News
14 Nov 2016

O.R. Lasertechnologie to Unveil Fast, Affordable Metal 3D Printer at formnext
Originally published on 3dprint.com
See also OR Laser and LEDAS Sign Long-term Service and Consulting Agreement (OR Laser's innovative laser solutions to be enhanced by LEDAS' technical expertise)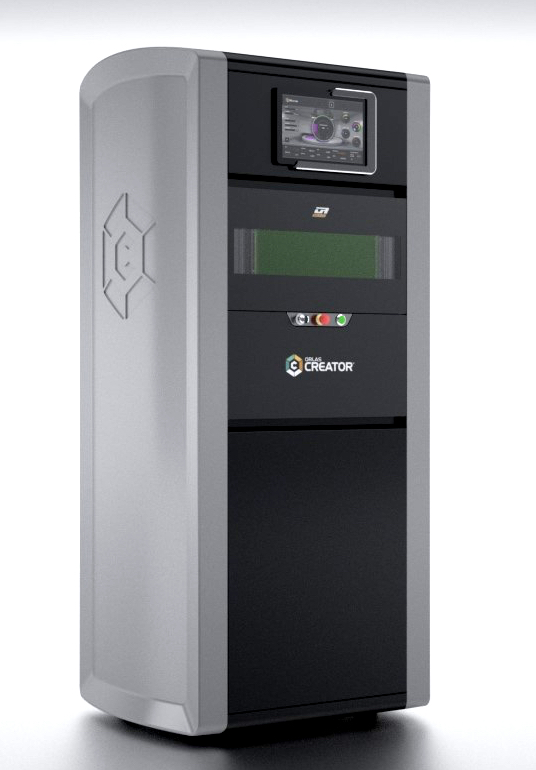 Next year, German company O.R. Lasertechnologie (OR LASER) will celebrate its 20th anniversary. For the last two decades, the company has been working diligently on the development of new applications for lasers in materials processing and in the metal and plastics industries. Their clients include manufacturing giants such as Siemens, Bosch, General Electric and others. Nowadays, it's hard to talk about laser technology without mentioning 3D printing as well, and OR LASER has certainly done its part in advancing 3D printing technology, including novel techniques for creating 3D printed sensor protection, as one example.
Now OR LASER is about to unveil a brand new metal additive manufacturing machine. The ORLAS CREATOR will be introduced next week at formnext, which will be taking place in Frankfurt, Germany from November 15 to 18. The printer isn't just a concept or prototype, as is often the case with machines being unveiled for the first time – it's a fully functional machine that will be printing metal parts on the show floor. According to OR LASER, they plan to begin shipping it by next year.
OR LASER started researching direct metal additive manufacturing more than three years ago, and their immediate goal was to make the technology more accessible – an ambitious goal, for sure, as metal 3D printing technology has only recently become feasibly available to anyone outside of a few major corporations. Their research showed tremendous potential for the use of metal 3D printing in small- and medium-sized enterprises (SME) such as those in jewelry, dentistry, medicine and small engineering firms and laboratories. Unfortunately, those were exactly the types of businesses who had no way to access the technology.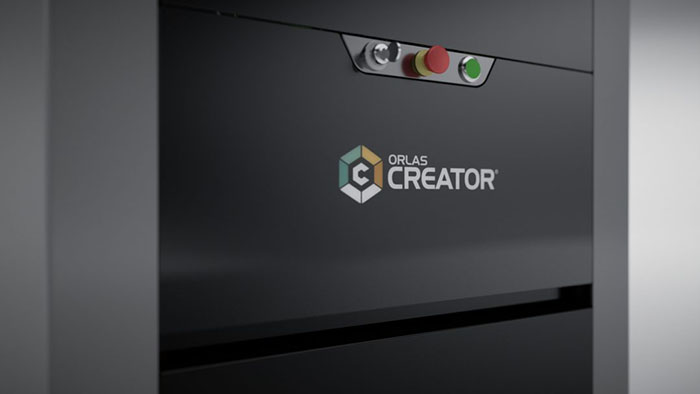 Those businesses were who OR LASER kept in mind when they designed the ORLAS CREATOR, which the company describes as a "contained hardware system." Safety was a priority in the design, especially for smaller facilities, as well as ease of use. Materials are delivered in cartridge form, and OR LASER provides filled cartridges, though an open materials system allows for the use of third-party materials as well. A unique build platform design features an innovative blade that produces parts 30% faster than competing machines, and part resolution is comparable to other, higher-spec machines on the market, according to OR LASER.

In addition to the printer itself, OR LASER put in a lot of effort to deliver a full ecosystem with advanced software and interfaces. No third party software will be required to run the machine, and, in keeping with the company's philosophy of independence, more than 80% of the printer's hardware was produced in-house as well.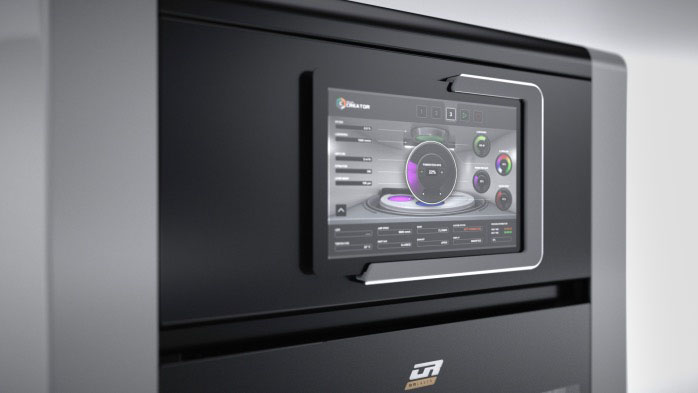 No information has yet been provided about the ORLAS CREATOR's cost, but OR LASER states that its price will be very competitive for a machine of its specifications. More information will be provided at formnext when the company officially unveils the CREATOR, so if you're there, stop by Booth E70 to check everything out. 3DPrint.com will be on the show floor, too, and we're looking forward to seeing all of the new developments that are going to be introduced to the additive manufacturing world. If you see us, say hello! Discuss in the ORLAS CREATOR forum at 3DPB.com.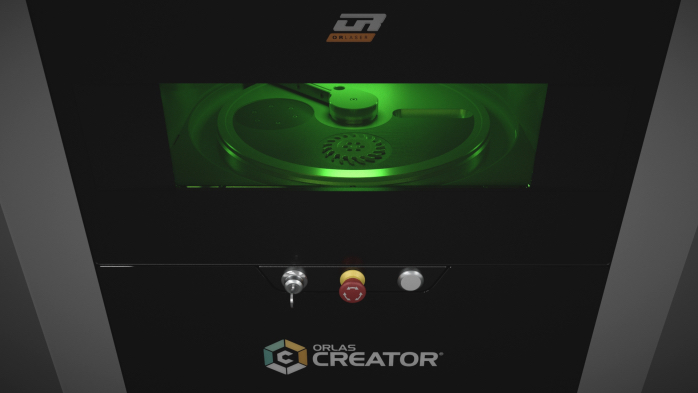 Fixed link :: http://ledas.com/group/news?news=508
03 Mar 2016

JETCAM exhibits all-new CrossTrack and Expert nesting software at JEC World 2016

JETCAM will exhibit new versions of its CrossTrack Composite Manufacturing suite, including a new 'MLM Lite' level aimed at customers who want low-cost material life tracking of rolls and kits at booth 5A N78, JEC World between 8th and 10th March 2016.
CrossTrack MLM Lite runs on MS SQL Server Express, Microsoft's free server database platform, providing a cost-effective way to implement a system bringing traceability of both rolls and kits of plies across the cutting room. Staff are presented with a simple to use interface where batches of material can be created and booked in quickly using barcode scanners. Unlimited locations can be added, after which stock can then be tracked as it moves around the facility. Once plies are cut the resulting kits can also be added and tracked. CrossTrack also tracks the remaining life of both rolls and kits, and allows for full reporting using a powerful in-built reporting engine.

CrossTrack MLM Lite is 'nesting system agnostic' and does not need to integrate with JETCAM Expert CAM/Nesting software, but can be upgraded to higher end versions at any time in the future if required.

Another inclusion within CrossTrack is document linking. This powerful new feature provides the ability to create an association with any document type to a roll, batch or type of material or, in the SME and Enterprise versions of CrossTrack, also to kits. This is useful, for example, for associating documents such as delivery notes with batches or layup instructions with kits.

JETCAM will also be showcasing the latest versions of its Expert nesting software and Orders Controller software, both of which include several new major features. JETCAM Expert now includes drag and drop ordering, making it much quicker to create orders of plies for nesting directly within the software. JETCAM Orders Controller (JOC) benefits from DXF splitting and the same document linking feature as found in CrossTrack.

JETCAM will share booth 5A N78 with Assembly Guidance, and will also demonstrate the integration between CrossTrack and Assembly Guidance's KitGuide laser guidance ply unloading and kitting system.

Said Martin Bailey, General Manager for JETCAM International s.a.r.l.; "Since its launch six years ago CrossTrack has won several awards and evolved to provide composite manufacturing companies with powerful tools to drastically save time and simply the process of material and life tracking, nesting and unloading. These new features, along with integration into systems such as KitGuide, deliver a demonstrable return on investment and give companies the traceability they need at the touch of a button."

Fixed link :: http://ledas.com/group/news?news=504
15 May 2015

Connova improves nesting efficiency by 20% with JETCAM, with system paying for itself in under two months
Connova AG, based in Villmergen, Switzerland manufactures composite parts for the aviation, automotive, F1 racing and medical technology industries. The company was using prepreg nesting software supplied with their Zund cutter, which was difficult to work with and produced inefficient nests requiring additional manual work after creation. Creating CAD files from physical ply templates was slow. Furthermore, handling material and orders required separate, fragmented systems. Updating these systems, such as Excel spreadsheets, took time and was open to error. Said Cem Koeylueer, Head of Engineering; "There were many steps to take to get from CAD file or ply template through to cut plies. When talking to our customer Sauber F1 Team we established that we were wasting material because of poor nesting, so we decided to research the market. It took a long time for us to digitise prototype plies and to get them in electronic format with profiling information applied. At the same time we were in discussions with Porsche to supply composite heat shields for the 918 Spyder. Many other clients were requiring material traceability, so we decided to consider systems that could also take material management into account, as we were spending considerable time tracking material and working out the best roll to use."
View the video case study
During the Summer of 2013 Connova started to evaluate the market, providing a series of plies for nesting. JETCAM's nests were 15-20% more efficient than their software and all other nest examples. JETCAM was also the only company that had an integrated material management system - CrossTrack - that could also be expanded to provide composite material life and ply/part traceability, with no financial penalty with upgrading later as Connova would only pay the difference in price between modules. This allowed them to consider a two-stage roll out, starting with roll management and nesting, followed by full material life tracking from freezer to autoclave. Jon Andri Joerg, CEO of Connova said; "We wanted to experience the first stage and make sure that the implementation went smoothly, with people being up to speed."
During the selection process Connova won the order to supply the engine bay heat shields for the new Porsche 918 Spyder, with many other companies unable to manufacture the complex part. As their existing nesting software was proving inefficient they acquired some static nests through a third party in order to remain competitive. Although this ensured that they were producing efficient nests for Porsche they were unable to mix in other orders for the same material. Said Cem; "We needed to select a dynamic system quickly that could adapt, allowing us to maintain our competitive edge. We chose JETCAM for two reasons - the ease of use and it had the best material efficiency."
The decision was made to purchase JETCAM Expert and CrossTrack AMS (Advanced Manufacturing Station) in early 2014. A five-day implementation and staff training plan was scheduled by JETCAM Composite GmbH for April, with Connova having the ability to create highly optimised nests after the first day. JETCAM Composite GmbH also installed a photography-based scanner to vectorize the composite templates, thus eliminating the use of a digitizing board which was taking two days a week to operate.
After going live the company immediately saw benefits. The speed at which ply prototype templates could be scanned, converted to DXF and then imported into JETCAM improved by at least 80%, with the previous 16 hours per week reduced to around 2 hours. Complete sets of plies could then be automatically created in JETCAM in seconds with profiling information added, ready for nesting.
The nesting process itself was also greatly improved. JETCAM's high performance nesting allows Connova to specify a time to run, with the nest continually trying different layouts to achieve better efficiency. Significant additional work had to be done on their previous nesting software after nesting, but now once the nesting time has elapsed NC code and reports are generated and ready for use without any further user input required. With the inclusion of CrossTrack, JETCAM Expert is set to automatic mode, listening for instructions. The CAM process requires no user input whatsoever, with users simply dragging and dropping plies into an order list, which is passed with one click to JETCAM for nesting.
CrossTrack material management delivered further benefits. For the first time Connova had a single interface available for tracking material. There was much less data entry, and therefore possibility for error. As CrossTrack can have unlimited locations specified, the location of any item can be updated as it moves around the facility.
Connova also benefit from CrossTrack's automatic material stock prioritisation, which specifies the shortest roll to use by default, and ensuring that they don't end up with multiple rolls with minimal material. A further benefit is that CrossTrack can automatically create labelling information, either through user input or imported data. Previously this data was added manually, adding another step to the process and leaving the possibility of errors.
With a system spanning several processes and departments support is paramount. JETCAM Composite GmbH have provided telephone, remote and on-site support. Said Cem; "Support has been simply excellent. We can call up and questions are generally answered immediately, either over the phone or through a remote connection." Added Mr Joerg; "They were very pleasant to work with, extremely flexible and capable to listen and understand our needs. With every investment in a company the service aspect is huge, so we were very happy with the JETCAM approach."
Driven by the benefits already seen with CrossTrack AMS Connova are currently reviewing CrossTrack CMS, which will provide full material life traceability, along with nest scheduling. Said Mr Joerg; "If you work for customers in aerospace and med-tech industries and you get a quality audit this functionality is not 'nice to have' - it's a 'must have'. The data we get already is accurate and if I compare that with the period before, where we used several spreadsheets, obviously errors are happening. So we are very happy to look forward to that next implementation step."
Summary of Benefits
System paid for itself in under two months
Nests often 15-20% more efficient than previous/other systems, and much faster
Full material batch traceability
Option to track material/ply/kit life
Much faster to enter material data in CrossTrack than previous system
Connova can now quickly provide certification traceability reports for aerospace clients
CrossTrack selects the best material to use for each job automatically
Integrated with Camera to scan prototype, create DXF and then create ply file - From 16 hours to 2 hours per week
Automatic ply labelling
Software Installed:
CrossTrack AMS (Advanced Manufacturing Station) – SME Edition
Fixed link :: http://ledas.com/group/news?news=502
23 Sep 2014

JETCAM to Release New Version of Award-Winning CrossTrack at Autumn Trade Shows
JETCAM transfered most of its software product development to LEDAS. Today, a big team of LEDAS developers is continuously and successfully working within several JETCAM projects, including ERP/MLM/MES/WMS solution Crosstrack.
JETCAM International s.a.r.l. today announced that it will be showcasing version 3 of its award-winning CrossTrack composite manufacturing software at the Composites Europe show in Dusseldorf in October and the Composites Engineering show in Birmingham in November.
The new version now also supports sheet metal manufacturing as well as composites, benefits from a new interface and includes an array of new features across all areas of the software.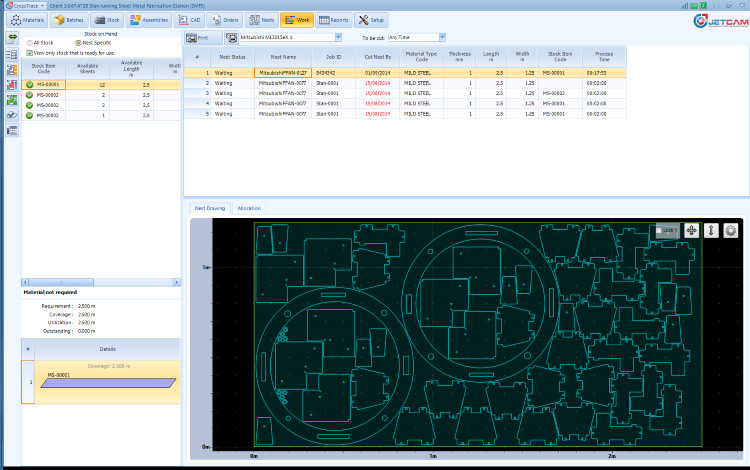 Serving both composite and sheet metal users
CrossTrack provides traceability and control of materials, material life (for composites), components/plies, assemblies/kits, orders and nests - all in real time. JETCAM serves both the sheet metal and composite markets equally, also supporting cutting technologies such as punching, laser, waterjet and routing, which require different management processes to composites. CrossTrack 3 for sheet metal allows users to build quantity-based assembly structures, rather than the duplication structuring traditionally used in the composite industry. Many sheet metal companies will store multiple parts in one CAM component file - CrossTrack 3 now includes extensive support for this.

Stock is ever-changing, and staff need to know whether material is allocated elsewhere or actually available to use. CrossTrack 3 includes a nest allocation display, now also covering sheet metal, detailing the relationship between jobs to be cut and material to be used. Staff can see the physical material in stock and can also identify how much is already allocated to other jobs.
Enhanced interface for quicker data retrieval
The interface refresh is far deeper than simply cosmetic. New controls have been added to allow users to retrieve information faster, such as tooltips that also include thumbnail images. Additional filtering and searching tools have been added to many screens to allow users to quickly mine reams of data to get to the information they need.

Hundreds of additional updates across the entire CrossTrack suite have been included, such as:
A new static nest allocation scheduler, which can automatically create a worksheet to fulfil new demand with any static nests that include all required components
Significant performance enhancements, as background processes now run as dedicated Windows services
CrossTrack 3's CAD import now takes full advantage of JETCAM Expert's CAD converters, supporting 3rd party CAD systems such as SolidWorks, SolidEdge, Inventor and AutoPOL
Improved handling of filler parts and 'extras allowed'
Traceability logging for sheet metal stock
Support for JETCAM Expert's v6 High Performance Nesting, delivering even greater material efficiency on dynamic nests with significantly reduced runtimes
Said Martin Bailey, General Manager of JETCAM International s.a.r.l.; "This new release heralds a significant breakthrough for JETCAM. We have many customers manufacturing in sheet metal, composite or both. CrossTrack 3 provides a single solution which not only completely automates the CAM and nesting process but also provides end to end traceability to the exacting standards required by the aerospace and automotive industries." CrossTrack is in use by companies such as Bombardier Aerospace and is suitable for all sizes of company, with SME and Enterprise editions available. It won the Composites UK 'Innovation in Manufacture' award in 2013 and was a finalist in the MWP Advanced Manufacturing awards for best production management system in 2014.
Read more: http://www.jetcam.com/press/pr...
Fixed link :: http://ledas.com/group/news?news=501
20 Jun 2014

Switzerland's Connova to Use JETCAM Expert and CrossTrack Developed with Help of LEDAS
TERRASSES DU PORT, Monaco, June 18, 2014 – JETCAM international s.a.r.l. today announced the successful installation of JETCAM Expert and CrossTrack composite manufacturing suite at Connova AG, Switzerland, a leading marketer of high performance composites.
The five-day installation, performed by JETCAM Composite GmbH, took place in April 2014, covering installation of JETCAM Expert and CrossTrack, plus training for three staff. CrossTrack AMS (Advanced Manufacturing Station) was installed to provide real-time tracking and control of materials, plies, kits, orders and nests. JETCAM Expert, in conjunction with its High Performance Nesting module was configured in 'RCP' (remote control processing) mode to completely automate the import, 'cleaning', profiling and nesting of CAD files – all controlled remotely via CrossTrack. Users are also able to interact at any stage to deal with 'real-world' scenarios.
CrossTrack AMS provides a common interface covering all composite material handling and manufacturing processes, including material delivery, transferring stock, allocating materials to the machine, scheduling nests to be cut and kitting the cut plies. It provides complete traceability, allowing a finished part to be 'exploded' into its separate plies and subsequent roll or rolls of source material.
Said Jon Andri Joerg, CEO of Connova AG, a leading manufacturer and marketer of high-end composite solutions: "Our initial goals were threefold. First, we wanted to reduce the labor-intensive costs. Second, we were looking to save on expensive CFK material costs by optimizing nests and, last but not least, we also needed to urgently improve on the material selection process. With the combination of CrossTrack and JETCAM we've not only been able to improve material efficiency of above 12%, but also achieve a substantially better way in selecting the optimal material for a given job and getting our cutting department more in track with our overall lamination processes. The astounding fact is that this has all been achieved in an exceptionally short space of time."
Connova plans to expand the system in the future to include material life management, allowing staff to immediately view and track the life and status of materials, plies and kits. Said Cem Koeylueer: "We are extremely pleased with the first results. We are looking forward to installing the Material Life Management element of CrossTrack too. From a quality and cost point of view it's critical to have a good grasp of material life expiry and other critical information. The control benefit that CrossTrack delivers, the "material reservation" feature for future projects, and improved documentation along with other automation will deliver further savings and improve process reliability."
For more information visit www.jetcamcomposite.com.
About JETCAM International s.a.r.l.
JETCAM International has been developing and distributing its JETCAM Expert range of CADCAM software since 1986. In use in over 80 countries worldwide, JETCAM Expert software supports virtually every CNC punching, laser, plasma, routing, waterjet and flatbed cutting machine available today, allowing users to program any combination of CNC machines with a single CAM system. The software has received various accolades and awards due to its high level of automation and fast return on investment.

Fixed link :: http://ledas.com/group/news?news=499
24 Feb 2014

C3D Labs Releases V15 of Its Geometric Kernel
Offers Significant Increase in Performance and 50+ New Functions
C3D Labs (ASCON Group) is pleased to announce a newest release of its geometric modeling kernel, C3D. The company worked with customers over the last year on improving V15, and so the new version offers developers over fifty new functions, methods, and algorithms, as well as enriched documentation, an improved test application, and English localization. The C3D Solver and C3D Converter modules now operate several times faster.

"The potential for enhancing C3D is far from exhausted, as V15 proves," said C3D Development Manager Nikolai Golovanov. "The architecture of the product provides great opportunities for developers. For example, we achieved impressive acceleration in individual components of the kernel."

Developers using the new version for three-dimensional computer-aided design systems will be able to increase the speed and efficiency of their applications with minimal consumption of their resources. English localization expands the geography of sales for the geometric kernel. Thanks to its flexible licensing policy, C3D is unique among the kernel offerings in the global market of CAD components.

C3D V15 will be presented at the CeBIT 2014 exhibition (Hannover, Germany) and at COFES 2014 (Scottsdale, Arizona, USA). Also all the interested are welcomed to join the webinars in English on February 20 (14.00 Moscow time, GMT +04:00) and February 25 (20.00 Moscow time, GMT +04:00). For further details, please contact us direct at c3d@ascon.ru.

Read more: http://ascon.net/main/news/ite...

Fixed link :: http://ledas.com/group/news?news=496
09 Jan 2014

'Export to JETCAM' Expected in BricsCAD
JETCAM and Bricsys are both strategic partners of LEDAS, specializing in CAM and CAD markets, respectively. One year ago LEDAS introduced top managers of both companies to each other. This action started fruitful cooperation between parties, influenced the plans of development of BricsCAD product, putting integration with JETCAM on the table.

TERRASSES DU PORT, Monaco, Jan 2, 2014 - JETCAM International s.a.r.l. and Bricsys nv have announced a technical and commercial partnership that will mutually benefit their respective customer bases.
Bricsys recently announced v14 of the successful BricsCAD software platform at their International Conference in Darmstadt, and now supports sheet metal unfolding in the BricsCAD Platinum edition. Development has already commenced on one-click 'Export to JETCAM', providing the JETCAM Expert nesting system with all the information required to automatically tool and nest the component.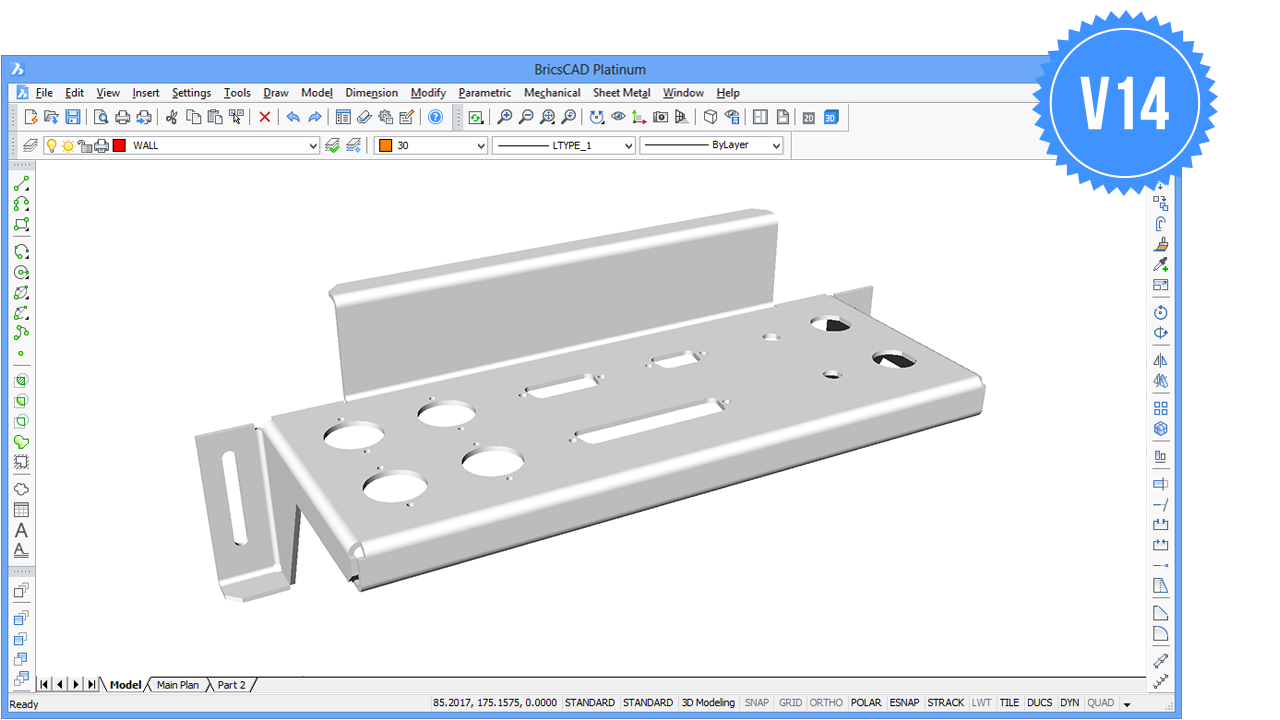 With v14 of BricsCAD, Bricsys continues to deliver on its promise to unify 2D CAD and 3D direct modeling for dwg. In addition to standard dwg CAD functionality the platform now also provides users with 3D direct modeling, 2D and 3D constraints, design intent recognition, assembly modeling and kinematic analysis, and since v14 now also with sheet metal capabilities.

JETCAM Expert provides either full interactivity or automation of any stage of the tooling and nesting process. With support for virtually every CNC punching and profiling machine available today, the award-winning software offers high performance nesting options and tight integration into legacy data systems such as MRP.

Said Martin Bailey, general manager of JETCAM International: "We attended the recent Bricsys International Conference and were extremely impressed with their latest release. This integration will provide joint customers with a simple, fast and automated method of passing information between systems, and with JETCAM's automation it can take the user right through to NC code generation in a matter of seconds."

"We look forward to partner with JETCAM to provide our customers with an integrated solution to their CAM requirements," said Erik De Keyser, Bricsys CEO. "Working in partnership with a market leader such as JETCAM will help our customers automate the process of CNC code generation from BricsCAD drawing files."
About JETCAM International s.a.r.l.
JETCAM International has been developing and distributing its JETCAM Expert range of CADCAM software since 1986. In use in over 70 countries worldwide, JETCAM Expert software supports virtually every CNC punching, laser, plasma, routing, waterjet and flatbed cutting machine available today, allowing users to program any combination of CNC machines with a single CAM system. The software has received various accolades and awards due to its high level of automation and fast return on investment.

For more information, please visit www.jetcam.com.
About Bricsys
Bricsys is a global provider of dwg engineering design software brought to market under the BricsCAD brand. With its relentless commitment to the success of the BricsCAD community, Bricsys is focused on providing industrial-strength CAD software and industry leading support at a compelling price. Its customers can be found in the AEC, GIS, civil engineering, process and power, and mechanical CAD markets.

For more information, please visit www.bricsys.com.

Fixed link :: http://ledas.com/group/news?news=495