Bricsys (Belgium), customer for implementation of direct modeling for Bricscad, licensee of LGS 2D, 2010 – 2011, purchaser of the IP for the LEDAS products and technologies Bricsys is a global provider of engineering software and software components for 3D modeling having a network of 70 offices on four continents. Its product portfolio consists of Bricscad design software; Vondle extended SaaS platform; Bricsys Meeting Place support network; and the newly acquired LEDAS software products. Bricscad is the powerful DWG-alternative CAD platform that enables .dwg-based applications to serve the growing markets of GIS, AEC, mechanical CAD, and civil engineering.
In 2010-2011, in the framework of a large contract, LEDAS implemented for Bricsys a module which enabled direct modeling facilities for Bricscad. In October 2011, these results have been with a great success presented at the annual conference of Bricsys customers in Brussels. By that time LEDAS and Bricsys agreed upon acquisition of IP rights for LEDAS products and technologies; this deal and main related organization developments were described in a joint press-release of 6 Oct 2011, see below.
David Levin and Erik de Keyser are signing the agreement on the acquisition, October 2011, Gent, Belgium: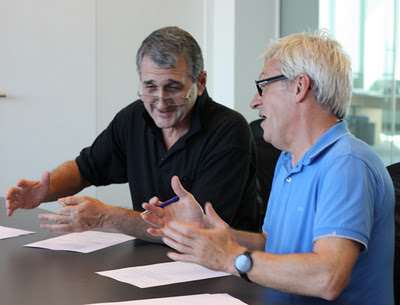 Erik de Keyser and his colleagues in Novosibirsk Academgorodok, July, 2011: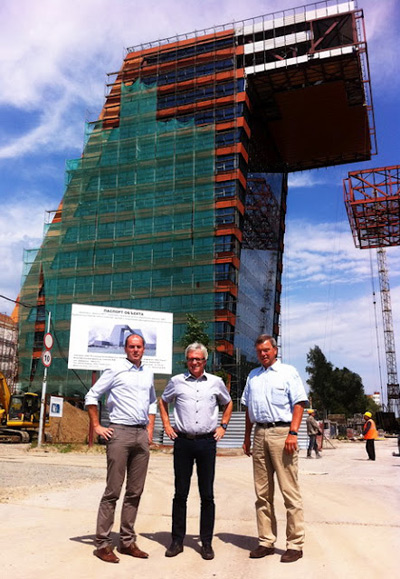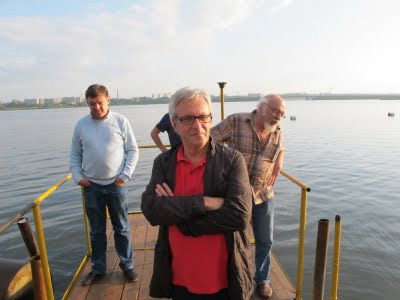 For more detailed and original information about LEDAS-Bricsys, see

Gent, Belgium and Novosibirsk, Russia: October 5, 2011 – Menhirs NV, the parent company of Bricsys NV, announced today that it has acquired the intellectual property rights for several flagship software products from LEDAS. The acquired IP consists of the source code to LGS 2D, LGS 3D, Driving Dimensions, RhinoWorks, and other programs used by the computer-aided design industry.
The acquisition reinforces the position of Bricsys in the mechanical computer-aided design (MCAD) market. As a result of the acquisition, Bricsys and its team of third-party developers will easily build more MCAD applications on top of the Bricscad platform. The technology developed by LEDAS permits the development of advanced applications in the areas of direct modeling, assembly design, and related functions.
Parametric Modeling and Direct Editing in Bricscad V12
Since its founding in 1999, LEDAS has become been a leading provider of constraint-based design tools, as well as component technology and software development services for the CAD, CAM, CAE, and PDM markets. Its line of Driving Dimensions products revolutionized the field of direct modeling by bringing constraint-based parametric design to popular, low-cost 3D modeling applications, such as SketchUp and Rhino.
The Driving Dimensions technology is original to LEDAS, and allows designers to edit many kinds of solid, surface, and wireframe models parametrically. It provides designers with full control over their design intent through the use of geometric and dimensional constraints. Parametrics and constraints increase the productivity of designers significantly as they make changes to designs. By adding the LEDAS technology to its portfolio, Bricsys continues on its track to growing its sales in the worldwide CAD market.
The first result of the technology acquisition is Bricscad V12, which will allow designers to enter the world of 3D parametric and direct modeling – without needing to leave the .dwg-based design environment with which they are familiar. In addition, Bricsys plans to offer APIs that allow application developers to raise their applications to the next level of sophistication.
Management Changes
To efficiently manage the acquired IP, Bricsys is establishing a wholly owned subsidiary, "Bricsys Technologies Russia." Current LEDAS CEO Dmitry Ushakov will remain a member of the LEDAS Board of Directors, a entity separate from BTR; in addition, Mr Ushakov has accepted the position of CEO of BTR.
Bricsys has signed a service agreement with LEDAS, which continues as a service provider in the field of engineering software development. Under the agreement, Bricsys will hire several software developers from LEDAS who, under the management of Mr Ushakov, will integrate and continue the development of the acquired technology.
"By combining advanced technology from LEDAS, the excellent skills of its developers, and the expertise we have here at Bricsys, I am convinced that together we can make a significant impact on our industry," said Erik De Keyser, CEO of Bricsys. "The technology acquisition we announced today enhances our vision for MCAD software, and expands our .dwg-based CAD offerings. We intend to use the new technology to extend our reach into the AEC and the civil engineering markets."
"We successfully pushed our development to the edge of technological possibility, and so it's great to see how our technology will be applied to build new, highly competitive CAD solutions," added David Levin, co-founder of LEDAS Ltd and Chairman of the Board. "This deal allows us to now focus instead on the most profitable direction of our business: providing high-quality engineering software development services for CAD/CAM/CAE/PDM vendors who use LEDAS as their long-term R&D center. We have the competence, the skillets, and a ready sources of talented young developers, and so we are intensively working at extending this side of our business as we welcome new customers."
"For me, it is an honor to be invited by a company that has become a leader in the .dwg-based design market," said Dmitry Ushakov, current CEO of LEDAS. "I am excited about applying our constraint-based technology on top of a powerful CAD platform. With the support of the talented, multi-national team of engineers and mathematicians at Bricsys, we will create advanced MCAD solutions."