Success stories: customers, partners, and friends (1999 – 2019)
upfrontezine.com/Ralph Grabowski (Canada), partner for isicad activity and consulting
Ralph Grabowski is a well-known Canadian expert and author of dozens of e-books on MCAD, world famous blogger, consultant, and editor of the popular CAD publication upFront.eZine. In September 2009, by invitation of LEDAS, Mr Grabowski was travelling through Russia and visiting CAD software firms in St Petersburg, Moscow, and Novosibirsk. His aim was to gain insight into the Russian CAD market, describe its current state, and understand its future prospects.
One of the major events of this visit was a half-day roundtable which took place on September 8, 2009 in Moscow at Sheraton Palace Hotel. Its 40 attendees represented all major CAD vendors operating in Russia: ASCON, Autodesk, Dassault Systemes, LEDAS, Nanosoft, NTP Truboprovod, POINT, PTC, PTS, SibCAD soft, Siemens PLM Software, Spatial, Top Systems. Reporters from CADpoint, CRN, DMK-Press, PC Week, SAPR I Grafika also attended the event. A detailed report of his roundtable can be seen here.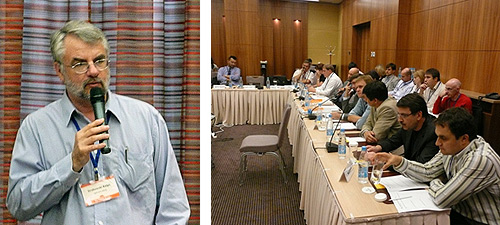 At the end of his visit to Russia, Ralph Grabowski spent couple days in LEDAS, his detailed report was published in upfrontezine N 621 and upfrontezine N 622.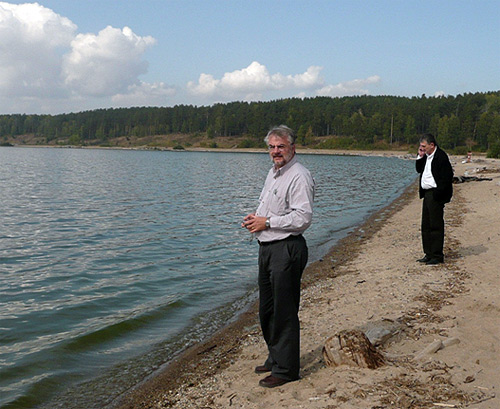 Ralph Grabowski, Ob Sea, Novosibirsk, 2009
Later Ralph Grabowski published a book "The Russian MCAD Market" which summarized his impressions and analysis of the visit. The book is available from here. Upon the agreement with Ralph, LEDAS is regularly publishes at isicad.ru translations of his papers from upfrontezine and use his help in editing and polishing our own publications in English. On the other hand, from time to time, in his blog and upfrontezine publications, Ralph uses information from isicad.