Team of developers led by STANKIN Moscow State Technological University enters the final stretch
STANKIN Moscow State Technological University and its contractors, Top Systems and LEDAS, announced today the completion of a major milestone in creating the made-in-Russia 3D geometric modeling kernel, RGK. For the first time since the R&D project began, a full-featured version of the software was assembled. It is scheduled to be presented at COFES Russia 2013, the congress on the future of engineering software taking place at the end of May in Saint Petersburg, Russia.
RGK is a three-dimensional geometric modeling kernel that consists of a set of high-tech software components. This software is being developed as a part of a program for advancing the national engineering capabilities of Russia. It is necessary for Russian industry to create innovative products that are competitive on the global market. It will be the basis for computer applications that perform design work in the areas of mechanical and architectural design, manufacturing, engineering analysis, and product data management.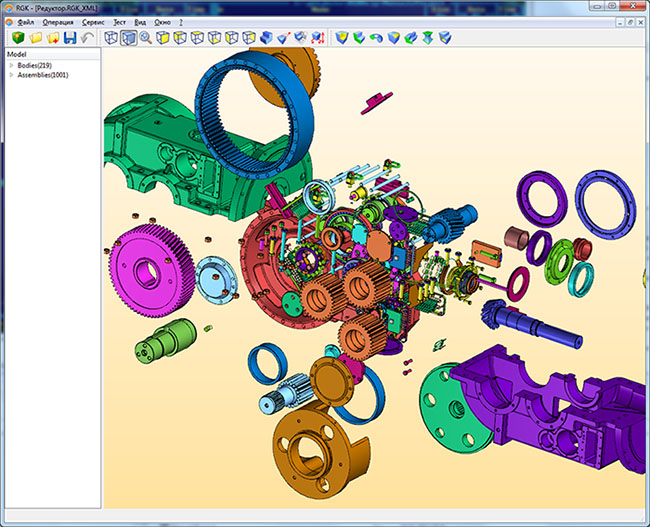 "The scope of research and development that we are carrying out faces tight deadlines, and so we engaged several Russian CAD software companies and academic teams to undertake those parts of the project in which they are the most competent," says Alexander Andreev, STANKIN vice-principal for development. "We paid special attention to working out the methods and architecture that underlie a complex computer system such as this one. Now that the first version of the 3D kernel is ready, we will for the next several months focus on tuning it. In particular, we will concentrate on enhancing the performance and overall quality of this new software product."
"One of the most important achievements of our project was combining the efforts of a significant number of competent companies and individual experts in the field of geometric modeling and computational geometry under a tight schedule," points out Sergey Kozlov, chief technology officer of Top Systems. "In a sense, this important project and its outcome are a unique achievement that undoubtedly will have good prospects."
"The most significant practical tasks carried out by our company was the development of the general architecture of the 3D kernel enabled by modern multi-core platforms and graphical computing devices," continued Mr. Kozlov. "The result will be the ability to develop end-user applications that run on many platforms and operating systems. As the developer of the project architecture, our company adopted the roles of analyst, coordinator of collaborative source code work, and arbitrator in selecting the variety of technological solutions put forward by project participants. Our company, together with LEDAS, will be demonstrating the advantages of Russia's new 3D kernel at COFES Russia."
"LEDAS has more than ten years experience in working with the international market, both in developing our own high-technology product (LGS geometric solver) and in completing high-tech projects commissioned by leaders of the global CAD market," explained Nikolay Snytnikov, chief operating officer of LEDAS. "In the development of this new-generation Russian 3D modeling kernel, we are using our knowledge and experience to solve complex tasks in computational geometry. For instance, we can handle calculating the intersections of arbitrary 3D surfaces and bodies, detecting collisions, calculating distances, and achieving high speed performance using NURBS objects."
About STANKIN Moscow State Technological University
Moscow Tooling and Machining Institute (also known as STANKIN Moscow State Technological University) was founded in 1930 to support one of the most important sectors of the economy at that time, the tool-making industry. By training highly qualified professionals, it helped develop machine tool equipment, new technologies, control systems, and the full computerization of one of the crucial components in the national wealth of any country – engineering manufacturing facilities.
Today STANKIN is more than an educational institution; it also functions as a research and development center, as well as a production facility that houses a network of research, academic, and production centers integrated into the State Engineering Centre.
About Top Systems
Top Systems of Moscow, Russia develops and releases fully integrated software solutions for computer-aided engineering and production and management planning. Its products include the T-FLEX CAD/CAM/CAE/CAPP/PDM software package that provides information models and product lifecycle management. It handles all tasks, starting with customer requirements and going through to testing and commissioning. Software products from Top Systems are used in a variety of industries, including mechanical CAD, toolmaking, aerospace, automotive and ship building, as well as architecture and furniture production. Please visit www.tflex.com.
About LEDAS
Founded in 1999, LEDAS Ltd. is a private, employee-owned Russian software company. LEDAS is best known for the development of constraint-based design tools and corresponding technological components. The company provides a wide range of high-quality software development and consulting services to the CAD, CAM, CAE, and PDM markets. LEDAS operates in the world-famous Novosibirsk research center, and has close contact with Novosibirsk State University. For more information, please visit company's Web site at www.ledas.com.