CD-adapco licenses LEDAS variational geometric solver LGS 2D (press-release, April 2, 2009)
CD-adapco, the world's largest independent CFD focused CAE provider, and LEDAS Ltd, an independent provider of computational components and software development services for CAD/PLM market, today announced that CD-adapco has licensed LEDAS variational geometric solver LGS 2D and intends to use it as a part of an integrated geometry modeling tool built-in their multi-disciplinary engineering simulation software STAR-CCM+.
LEDAS delivers LGS 2D component to CD-adapco for several platforms. The batch includes 32 and 64-bit versions for Windows, Linux on both Intel and AMD platforms, HP-Unix on PA-RISC and HP Itanium, IBM AIX on Power PC, Sun Solaris on Sparc64b and x86. "Though LGS is a portable software, this is the first so multiform delivery", said Dmitry Ushakov, Director of Product Management at LEDAS. "We are very pleased to provide such a service for a world leading company", he added.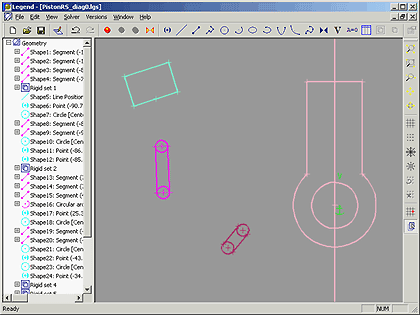 "Before choosing a geometric solver for our flagship STAR-CCM+ product, we extensively reviewed the offerings of all of the leading suppliers, " said Jean-Claude Ercolanelli, CD-adapco's Vice President Product Management. "We chose LEDAS because they matched all of our selection criteria: completeness of technical features and capabilities, availability of hardware platforms and responsiveness of their team. We believe that our relationship with LEDAS will have positive results for all users of STAR-CCM+."