LEDAS Geometry Comparison Software Amazingly Fast on Amazon Cloud
Multi-processor code improves performance fourteen times
Novosibirsk, Russia: June 10, 2014
— LEDAS Ltd., a developer of CAD computational components and products and a provider of software development services for the CAD/CAM/CAE/PDM/PLM market, today announced that it successfully installed its LEDAS Geometry Comparison engine on Amazon's cloud service. The results demonstrated an excellent increase in speed for complex geometric software running on parallel computation engine.
LEDAS Geometry Comparison (LGC) is a solution that pinpoints differences between similar 3D models, just as revision control systems do with text. This comparison function is applicable to many areas of engineering software, including model interoperability in CAD, CAM, and CAE systems, comparing revisions in Product Data Management software, and validation and regression analysis of 3D models as a part of automated quality assurance systems.
The development of LGC technology began just last summer, with the goal of building from scratch a reliable, fast, and really parallel solution. Early studies showed impressive scalability for the LEDAS code, thanks to the programming team avoiding the Boolean operations that are typically used in other, less efficient implementations.
Amazon cloud was chosen as a mature Web service infrastructure on which to test LGC's parallel capabilities. Through these tests, LGC showed a performance boost of 6x-7x when the cloud installation used 10 cores, then leaping to an amazing 14x on 40 cores.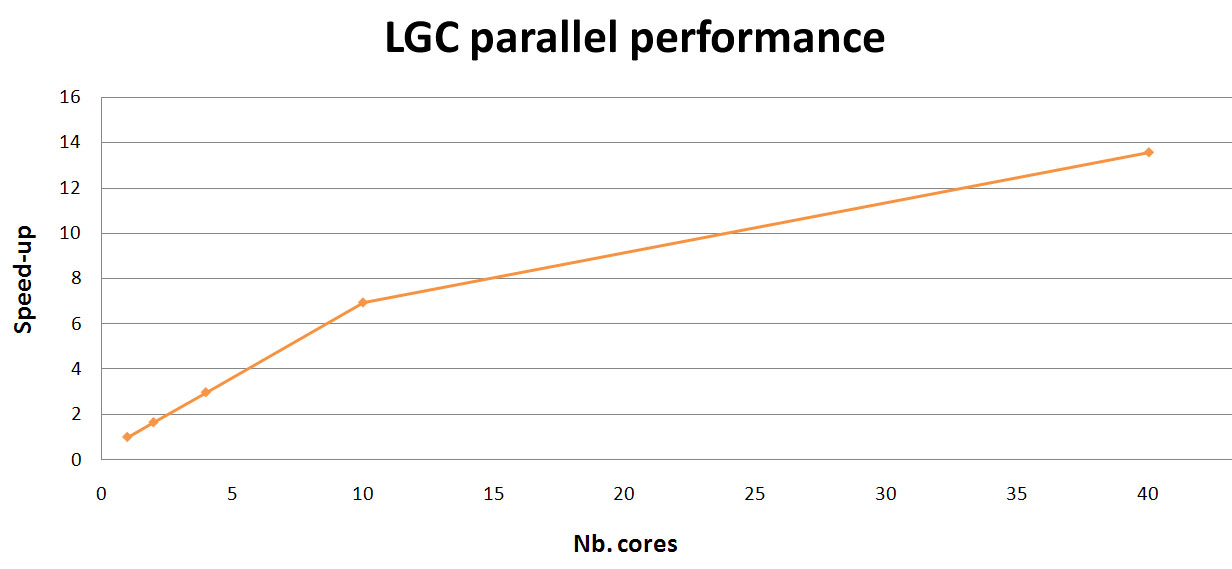 LGS speed up factor as function of the number of cores
"The most impressive results were obtained with models having a large number of faces, something that is usually a huge hurdle for traditional geometry comparison solutions," said Ivan Rykov, CTO of LEDAS. "This experiment makes it clear that the slowdowns typically experienced when increasing cores for parallel computations is not an issue for the LEDAS technology. The users of our software will be able to make comparisons of models with thousands of faces in just a few seconds – or less."
About LEDAS
LEDAS Ltd. is a private, employee-owned software company founded in 1999. It is the well-known developer of constraint-based tools and component technologies for the CAD, CAM, CAE, and PDM markets. LEDAS provides R&D and consulting services in the field of engineering software. More information about LEDAS is available at
www.ledas.com
.

Press Contacts
phone +7 383 3356 504
fax +7 383 3356 256
email info@ledas.com
web www.ledas.com