ADEM is an international company with its main office in Moscow. ADEM CAD/CAM is a software-solution for product employment, manufacturing and product data management. The seamless transition between the various modules guarantee efficiently work in the complete process chain.
Since 2006, ADEM-Assembly has been significantly improved, using LGS 3D core functionality. ADEM Assembly purpose is to simplify creation hierarchical 3D assemblies. Assembly design can be performed in two manners: from "bottom to top", by creation each part separately and then get them together or opposite from top to bottom, when you create assembly skeleton first and then design each part in details according assembly requirements. There are two parts of the system – parts designer and assembly manager. The last one greatly benefits by incorporating 3D geometry constraints solver.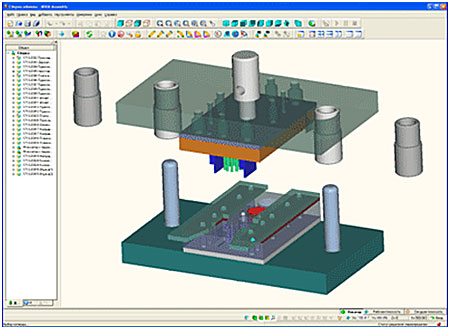 ADEM Assembly manager
Assembly manager allows to perform design in two ways from-top-to-bottom and from-bottom-to top. In both cases engineer is setting constraints and parameters, which define interrelationship between parts and their geometry elements. ADEM Assembly allows to move, mirror and rotate assembly components either with calculating defined relations or without them. While placement of free element is changed others, associated with it are modified automatically by system.