Today, April 1, 2004, Ledas Ltd. celebrates its 5th Anniversary. Dynamics of the Ledas progress can be characterized by the graph presenting the company's income and number of employees: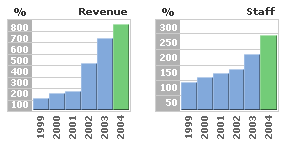 Arnaud RIBADEAU DUMAS, Dassault Systemes Research Director, commented (March, 2004):
"The cooperation between DS and Ledas has been expanding steadily. The total value of our contracts has more than doubled over the last two years. Certain key components developed by Ledas have become part of CATIA V5 releases already or will be incorporated soon."