LEDAS Chief Operating Officer Nikolay Snytnikov, who has been involved in management and development of key geometric components of CATIA for a long time, was invited by Dassault Systemes to attend the 3DEXPERIENCE World 2020 event. Nikolay provides a conference overview in the below article written for the isicad web portal.
From SOLIDWORKS World to 3DEXPERIENCE World
Nashville, Tennessee is known for its rich history of country music. Country stars are born here, the headquarters of many music labels are located here, and after a hard day cowboys accompanied by their girlfriends go to bars along Broadway to throw back a Jack Daniels and listen to modern country music.
For several days in mid-February, the cowboys in downtown Nashville had to make room for 6,000 SOLIDWORKS users, developers, and resellers as the city became the temporary capital of CAD during the 3DEXPERIENCE World 2020 conference – the former SOLIDWORKS World.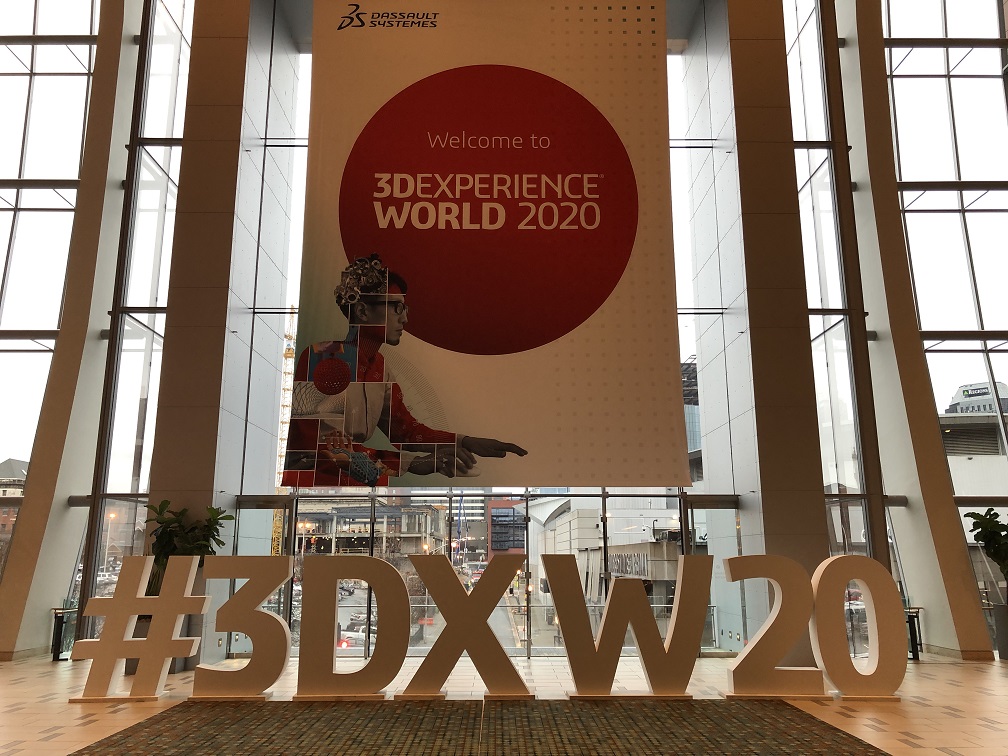 The new name was not chosen randomly by Dassault Systèmes. It reflects plans announced last year to develop applications that integrate into the 3DEXPERIENCE WORKS platform, with SOLIDWORKS as the flagship. A key event at the conference was the presentation of the new platform that combines online technology, a suite of applications, and a new licensing system.
Everyday users of SOLIDWORKS, who have little interest in corporate branding tactics or in predicting trends from the future, couldn't easily figure out why they didn't see the name of their favorite CAD program at the conference, as SOLIDWORKS was completely replaced by 3DEXPERIENCE WORKS on the first page of the conference program, participants' badges, T-shirts, and souvenirs. Unaware users, who upon first seeing the bold 3DEXPERIENCE logos, might even think that they had gotten lost at the wrong event in Music City Center, the huge conference forum in which the conference was held.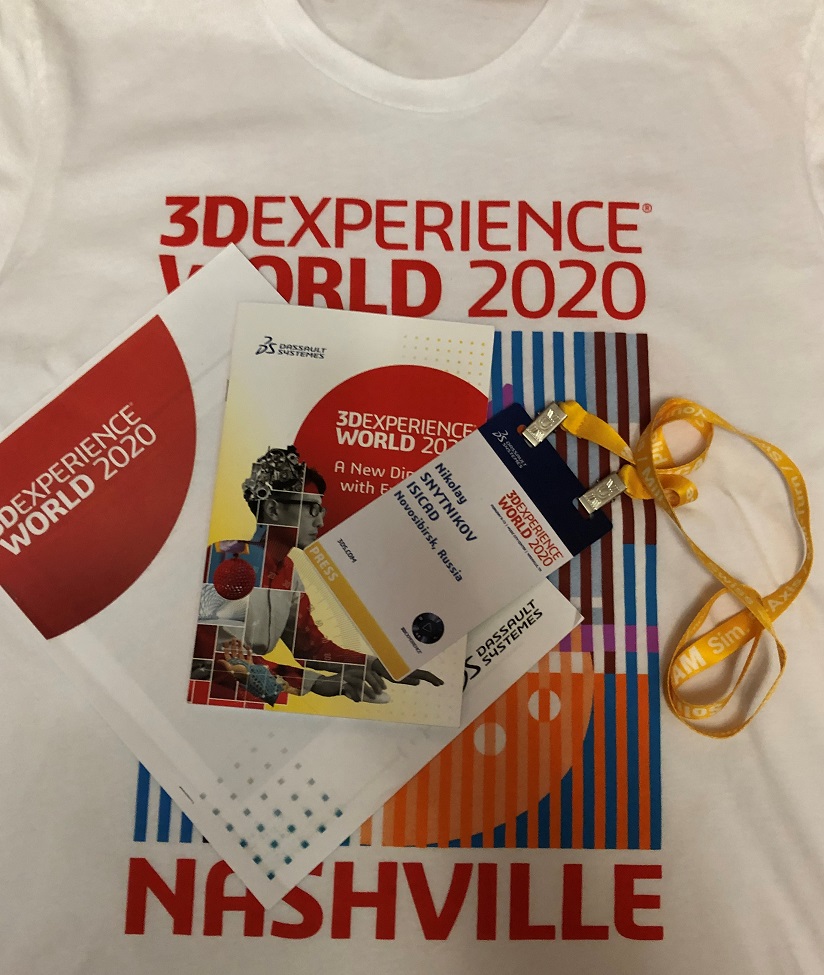 Nothing hints of SOLIDWORKS or SOLIDWORKS World (now called 3DEXPERIENCE World) in the show' branding
In his comments to the press, Solidworks CEO Gian Paolo Bassi noted that the conference's rebranding a posed considerable risk, and one that the company's management took because they were confident that SOLIDWORKS users would benefit from the opportunities offered by the new 3DEXPERIENCE WORKS system.
Just as we shouldn't judge a book by its cover, we should not judge this conference by the title on the front of the program's booklet. 3DEXPERIENCE World is, first of all, hundreds of presentations of SOLIDWORKS and related technology. They were delivered through 15-20 parallel sessions over four days. Each participant – from novice user to well-seasoned professional – could find a few dozen lectures and workshops to match their level and their interests.
SOLIDWORKS has become one of the most recognizable brands in the CAD industry, and even beyond. Although it does not hold a monopoly position (as the 3D CAD market of tools is sufficiently diversified), it has a market share of 20-45%, depending on the method of calculation. It has six million users worldwide, of which more than one million are professional engineers who purchase commercial licenses; the remainder consist of primarily educational licenses.
As a business, SOLIDWORKS is doing better than well. Over the last year, its sales grew by 11% to exceed €800 million (nearly US$900 million), earning more than 20% of Dassault Systèmes' four-billion in revenues for 2019. As a point of comparison, Dassault's flagship MCAD system CATIA generated €1,1 billion (US$1.2 billion).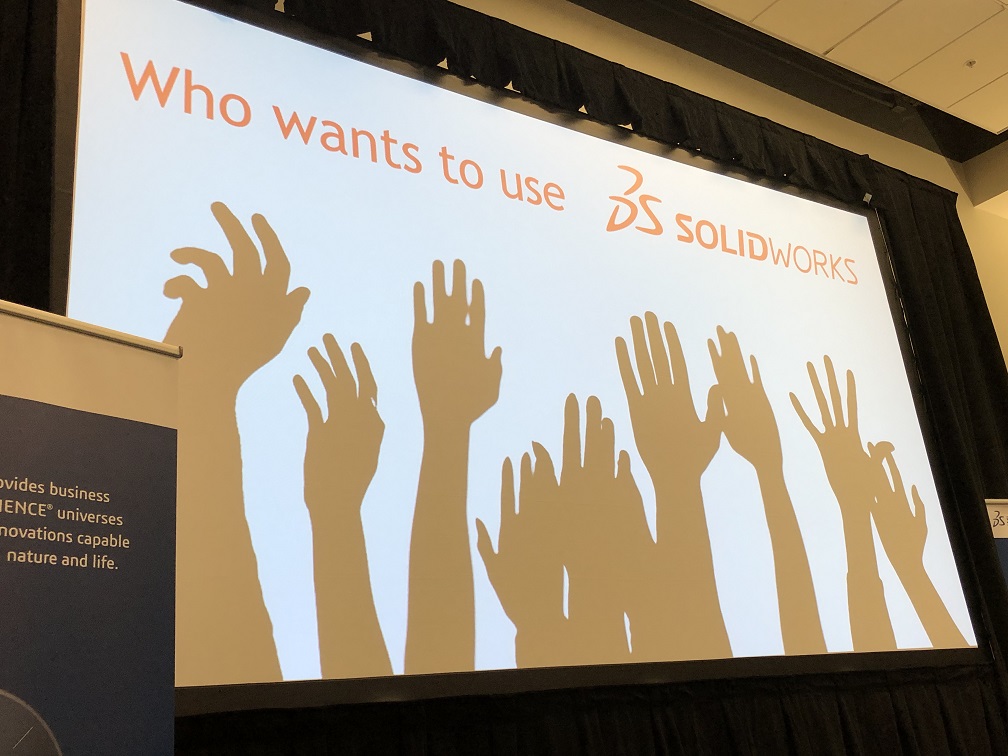 The answer is obvious as to who wants to use SOLIDWORKS, but will we see the same show of hands for 3DEXPERIENCE WORKS?
With this unparalleled success in mind, one can ask a logical question: why does Dassault want to rebrand a product that is so much in demand and sells so well?
Ten years ago, Jeff Ray, a former Solidworks CEO, openly discussed how the company had begun a secret "Let's kill SolidWorks" project. (For details, see the legendary "The Death of SolidWorks" article.) A new generation of modeling tools would replace SOLIDWORKS. The plan was to develop the new product on top of the same technology platform as CATIA V6, using the CGM core from CATIA's geometry kernel, replacing Parasolid that today is still used in SOLIDWORKS. Many of his ideas in the areas of Web access, collaboration, and integration with CATIA remain relevant today.
I'd like to note that those development efforts involved us at LEDAS. We collaborated with Dassault Systèmes on the development of a geometric solver that is built into CATIA as a CGM component, and because of this were also involved in those works for SOLIDWORKS.
Fortunately for users, the SOLIDWORKS revolution did not occur at that time. Soon after, Dassault Systèmes announced a new concept with the release of its 3DEXPERIENCE platform. It replaced PLM. (See historical photos from the Moscow DS forum in 2012, in Russian.) Alternatives based on 3DEXPERIENCE, like xDesign, failed to gain traction with Solidworks users. And so the paths of the parent and its subsidiary diverged as plans to merge Solidworks and CATIA were postponed to another time. The time has arrived after ten years, except that this time it looks like evolution instead of a revolution.
What is 3DEXPERIENCE WORKS: Web, Roles, and Machine Learning
Technologically, the 3DEXPERIENCE WORKS package is a set of applications/roles that can be downloaded and installed on the computers of users (like SOLIDWORKS), or else are accessed online via a Web browser. The first two applications are xShape (for 3D Scultor role) and xDesign (with 3D Creator role). Three types of licenses – Standard, Professional, and Premium – provide a set of applications that include SOLIDWORKS Standard, SOLIDWORKS Professional, and SOLIDWORKS Premium.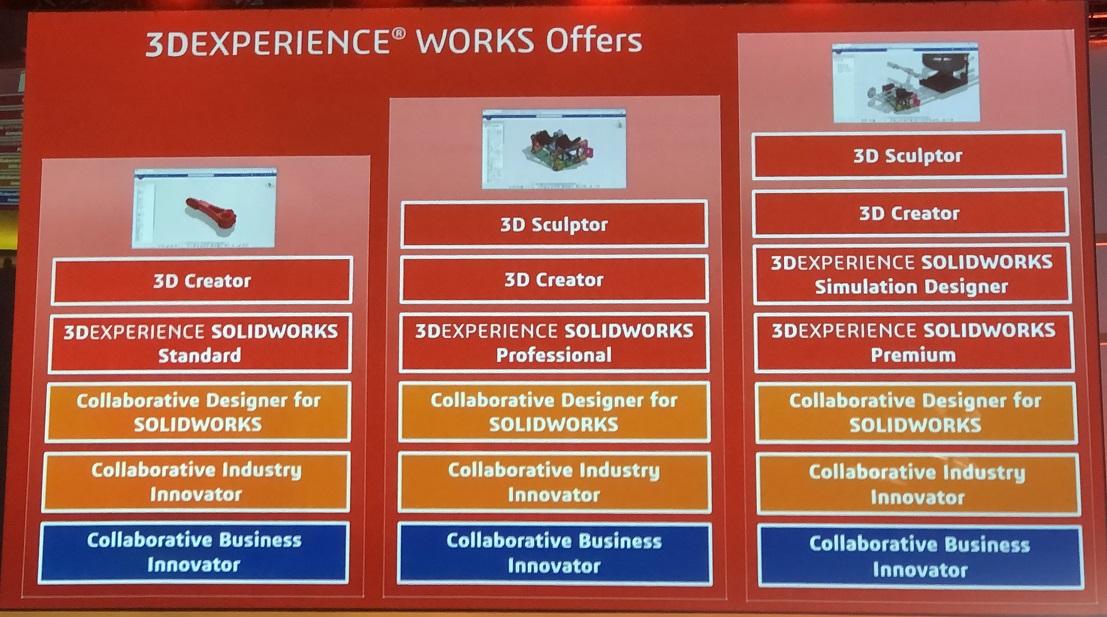 The 3DEXPERIENCE WORKS licensing options
It was emphasized that the old licensing scheme and the usual of SOLIDWORKS installation methods remain. However, the company will encourage users to switch to the new commercial offer because it is more beneficial and more convenient for them.
It will be possible to store 3DEXPERIENCE WORKS data in the cloud, which will help avoid problems typical with file exchange. File transfers and data conversion between applications are performed in the cloud using native tools. As not everyone accepts this way of working and not everyone trusts cloud storage, existing file processing methods will also be supported.
At some point in the foreseeable future, you will be able to use applications from the CATIA ecosystem, which is one of the significant advantages of the platform – at least, this is what Dassault management expects.
All application updates will be installed automatically, so users no longer need to remember version numbers. The "platform" version of SOLIDWORKS will also be updated automatically. In some industries (the field of medicine, for example), certified updates are required for each new software version, and so automatic updates do not need to be an option for them. Dassault Systemes hopes for rapid changes in legislation, as today most Web application updates go unnoticed by users, and this practice is becoming the industry standard.
Special attention in 3DEXPERIENCE WORKS is given to "roles." Each user has a specific role, for example, as a 3D Sculptor or a 3D Creator. For each role, the 3DEXPERIENCE platform has specific applications: xShape for 3D Sculptor, xDesign for 3D Creator. An example of a role-playing scenario was presented, which created a conceptual design of the sensational Tesla Cybertruck using 3DEXPERIENCE WORKS applications. (Jokers at the CAD industry hypothesized that Cybertruck is so crudely polygonal because Tesla designers did not want to exert themselves with A-class surfaces and their subsequent tessellations and renderings.) All team members were involved in an online collaboration, using the same data, and all their activities were part of a continuous development cycle.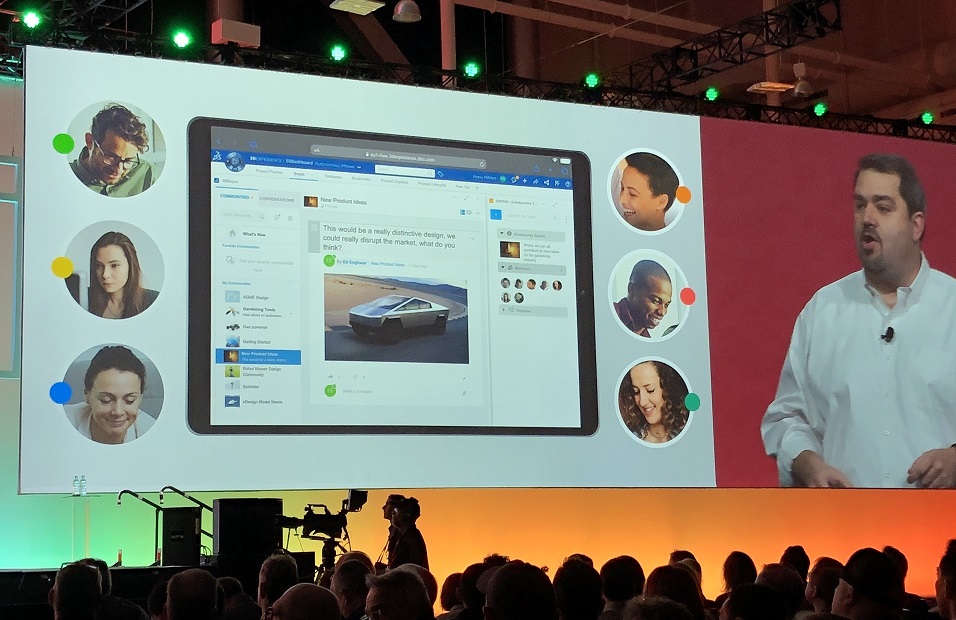 Product being developed by role, with messaging through 3DEXPERIENCE Forum: "This would be a really distinctive design. We can really disrupt the market. What do you think?"
In recent years, one of the hot topics in IT is the breakthrough in the field of artificial intelligence with machine learning, and the resultant avalanche-like growth as these technologies penetrate various fields. Traditional CAD systems lag behind in AI, because not many design tasks are particularly suitable for machine learning.
SOLIDWORKS developers decided to fill the gap by releasing several features in xDesign, xShape, and 3D Sheet Metal Creator based on geometric data processing and machine learning. As Gian Paolo Bassi described them, these are "little delighters" that help in automating some of the dull and time-consuming user actions. In his opinion, machine learning in these cases works just awesome. What was actually implemented: a tips system that suggests the use of certain modeling features based on the operations performed by users earlier, the recognition of user-created patterns on two-dimensional sketches, and an automated method of adding mates to assemblies.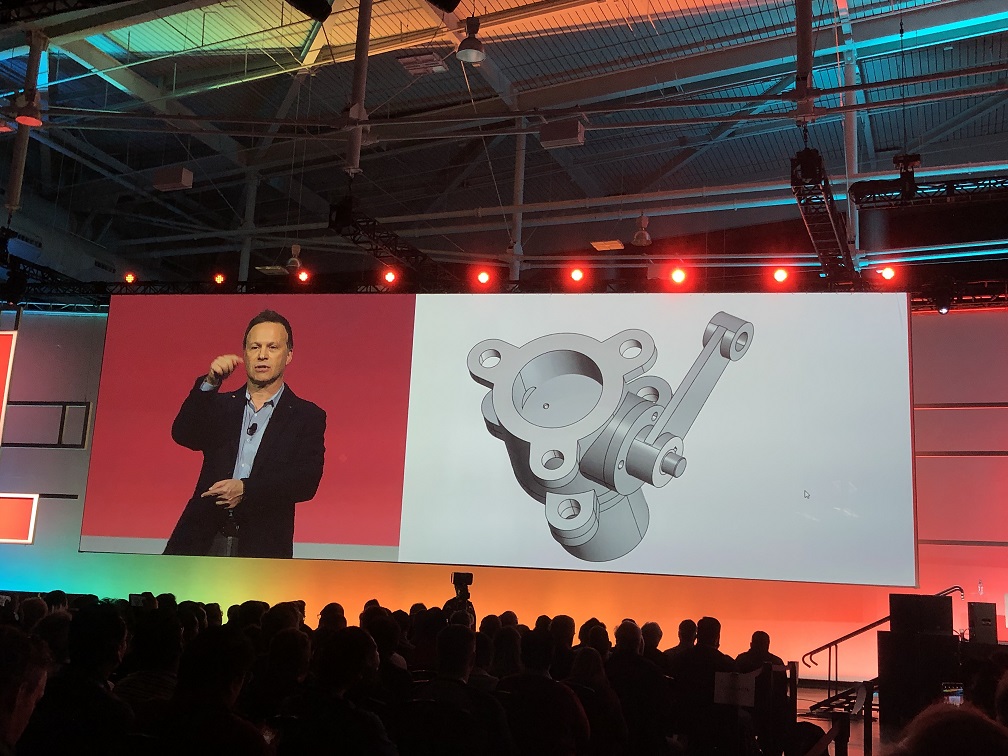 Gian Paolo Bassi talking of the benefits of machine learning for automatically-created mates in assemblies
SOLIDWORKS plugin developers are obviously very much interested in an API for 3DEXPERIENCE WORKS. Would it be possible to develop new applications and customize existing ones? There is no answer to this question yet, but the good news is that the ecosystem and capabilities of the desktop version of SOLIDWORKS remain the same, so you can continue using your own and third-party plugins.
Love of Life, Sports, a Playground, and the Bash on Broadway
In conclusion, let's look at a few non-randomly selected pictures to get further impressions of the conference.
In the photograph below, Gian Paolo Bassi (at far right) holds an electric surfboard and talks about how he cuts through the waves in his free time. The device was designed by Awake Boards in SOLIDWORKS.

Dassault Systèmes CEO Bernard Charles guided a tour of 3DEXPERIENCE and noted that he is glad that the community is growing. In-between, he mentions a concept new to Dassault Systèmes: the use of digital twins for human beings. What Mr. Charles talked about became clear only a few weeks later, when it turns out that this new concept of "creating life" is already replacing 3DEXPERIENCE.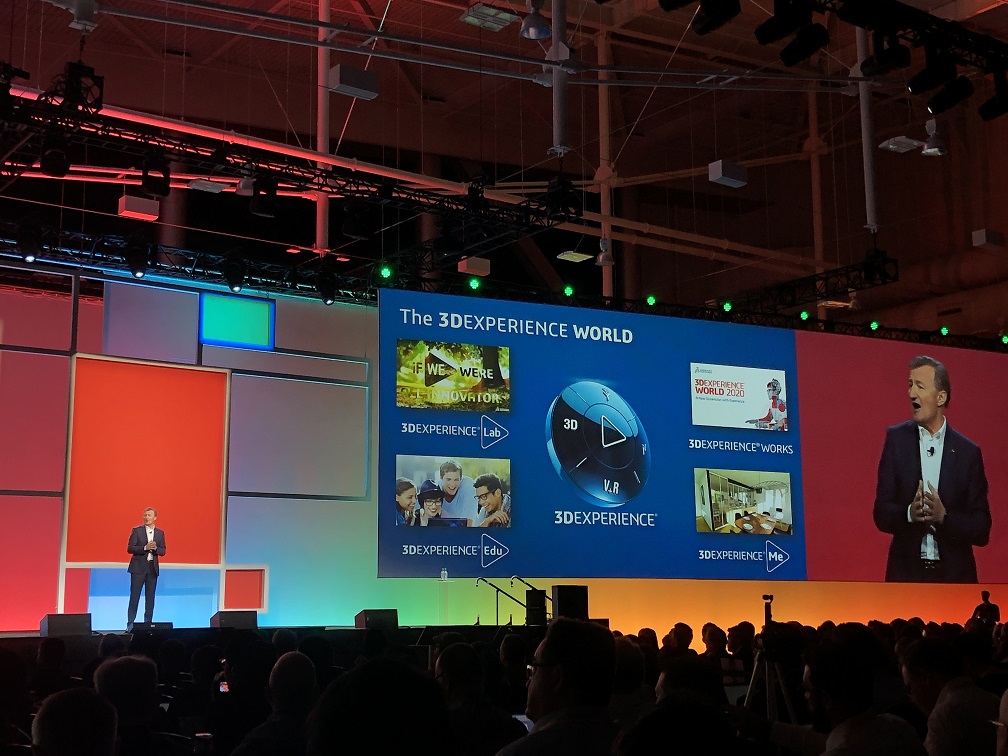 The true hero of 3DEXPERIENCE World was Cristine Getman, one of the invited speakers (second from right in the picture below). She is the executive director of the non-profit organization Magic WheelChair, whose mission is to create wheelchairs in the form of magic costumes for children with disabilities. Each such chair-suit is created specifically for the child based on his/her favorite fairy tale or movie. Since childhood, Christine has suffered from a form of muscular dystrophy and so her motor activity is seriously limited. But this does not limit her will to live and her desire to help other children. Magic WheelChair funds the costumes through sponsorship money so that for the children and their parents, they are free.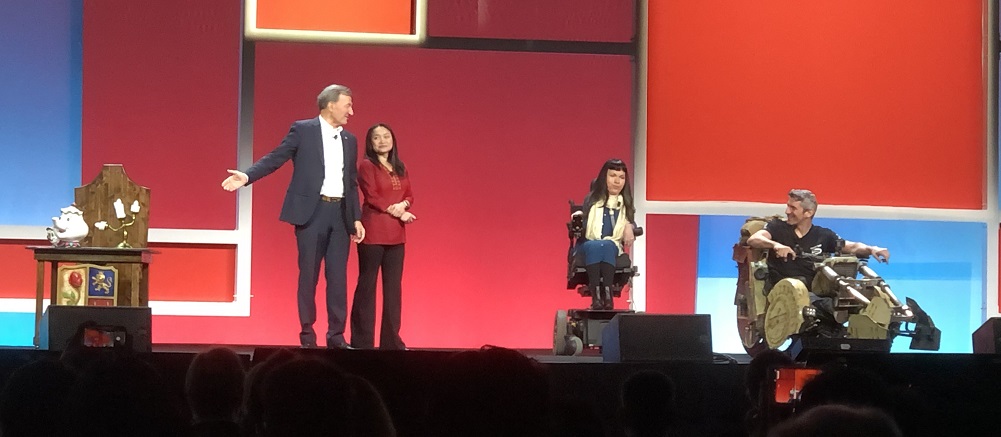 Another keynote speaker was Mike Shultz, a multiple Paralympic champion in motorsport and snowboarding, as well as the founder of the prosthetics company BioDapt. (See picture below.) Many years ago, Mike was amputated above the knee after a serious injury. He did not become discouraged and even with prosthesis continues to play sports professionally. Mike quickly realized that existing prostheses needed to be improved so that people can live a socially active life, and so founded his own company.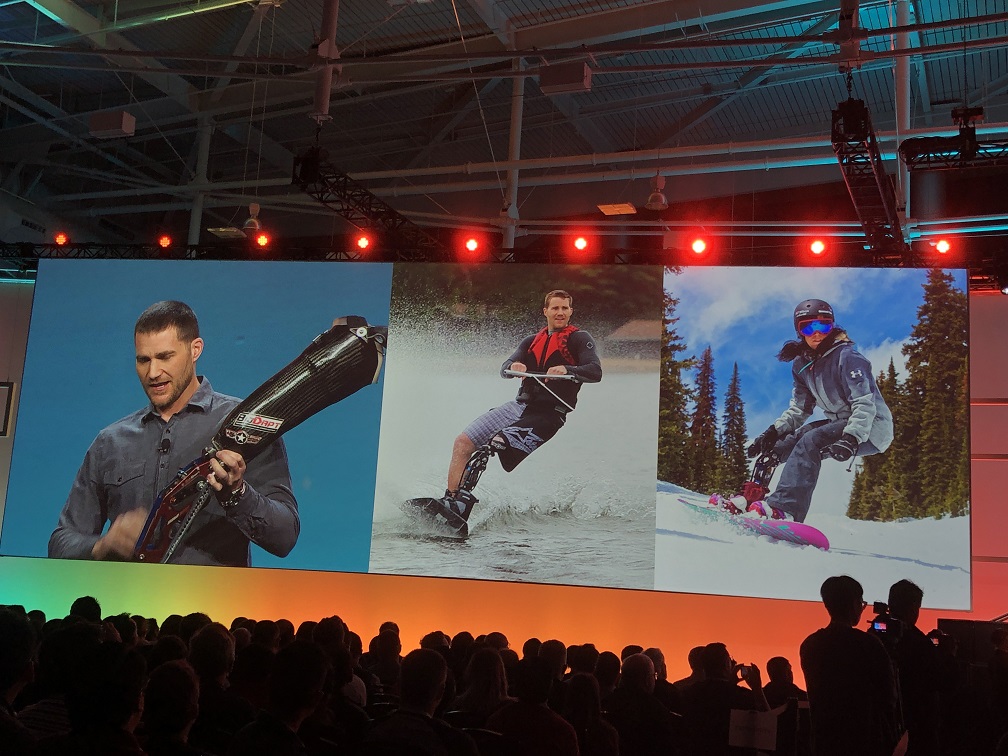 No conference is complete without a partner exhibition, and the one at 3DEXPERIENCE World was called 3DEXPERIENCE Playground – a playground for three-dimensional impressions. SOLIDWORKS products were located centrally, surrounded by dozens of partner applications from its ecosystem.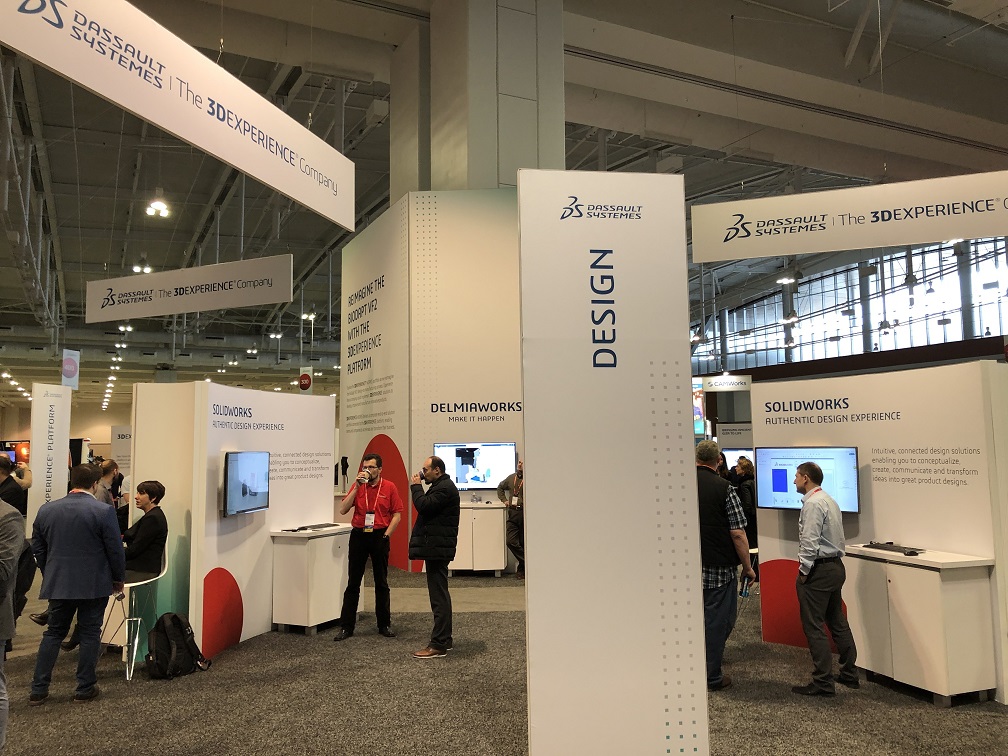 The conference ended with a party on Nashville Broadway, the "Bash on Broadway." Unlike New York's theatrical Broadway, this Broadway is musical. The conference organizers bought up several bars and even blocked off part of the street so that conference goers had a chance to become acquainted with the repertoire of local country performers and have a drink.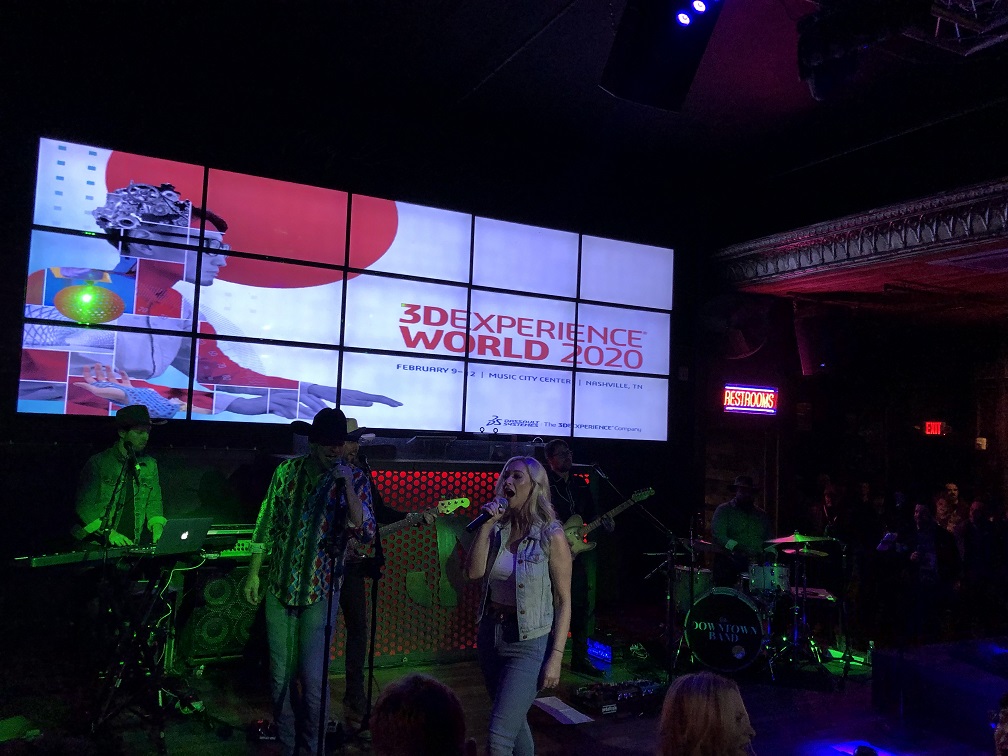 As Nancy Sinatra sang, "Those boots are made for walking!", these boots are one of the symbols of country music and local culture.