This is a proper moment to read about our history. Let me put some points here.
2019 LEDAS celebrates its 20th anniversary by moving to a new own 1,000-square-meter headquarters office at Academpark.
2017 LEDAS releases its LEDAS Cloud Platform (LCP) as an easy way to build Web-based CAD solutions.
2016 LEDAS signs a long-term cooperation agreement with a major US-based digital dentistry company.
2015 LEDAS lands its biggest service contract to date for developing a full-scale Web solution in the area of building information modeling (BIM)
2011 LEDAS sells some of its intellectual property and staff to Bricsys NV, including its LGS 2D/3D geometric solver. After the sale of IP rights concludes, LEDAS renews its top management and pivots the company to focus on high-end R&D services.
2009 LEDAS invents the new Variational Direct Modeling technology and develops a series of Driving Dimensions plug-ins for SketchUp, Rhinoceros, and other CAD systems.
2001 LEDAS starts development of the LEDAS Geometric Solver engine.
1999 LEDAS is founded on the groundwork laid by academic members of the nearby artificial intelligence lab. The first contract the new firm lands is with Dassault Systèmes of France.
Today is the first day of the strict "stay at home!" order in our region, but many of us have been working from home for a couple of weeks.
Thanks to the Zoom conference, we managed to congratulate each other remotely: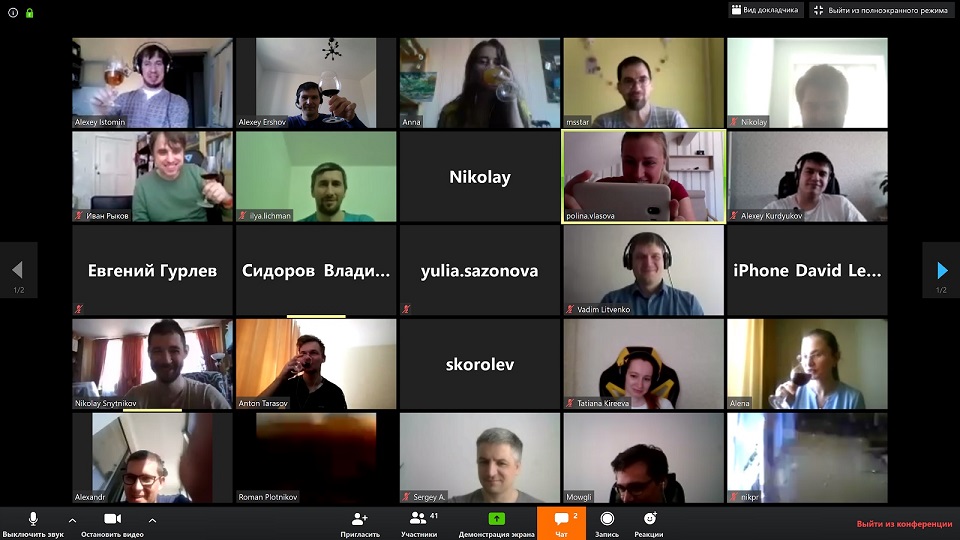 The event was attended by 44 LEDAS developers and QA engineers, and these were far from all of our employees. But still there were more of us than at a remote conference of the British government!