In these work-from-home times, we are seeing a burst of interest in LEDAS Cloud Platform (LCP) as nearly every day our team shows demos to prospective customers.
LCP is a platform on which applications are developed for online 3D modeling, and so I think that the primary reason for the record levels of interest is that companies are beginning to realize that the world and the way in which we organize it might not be the same after the pandemic ends. Businesses are asking their engineers to work from home, and this may well become the way of the future.
With remote work now a must, and because it is likely that full-scale and partial lockdowns will last for many more months, Web and cloud solutions are becoming the rule in software development and production use. When I look at stock graphs, I see online firms like Amazon reaching new heights, with Microsoft and Google also doing better than the market overall.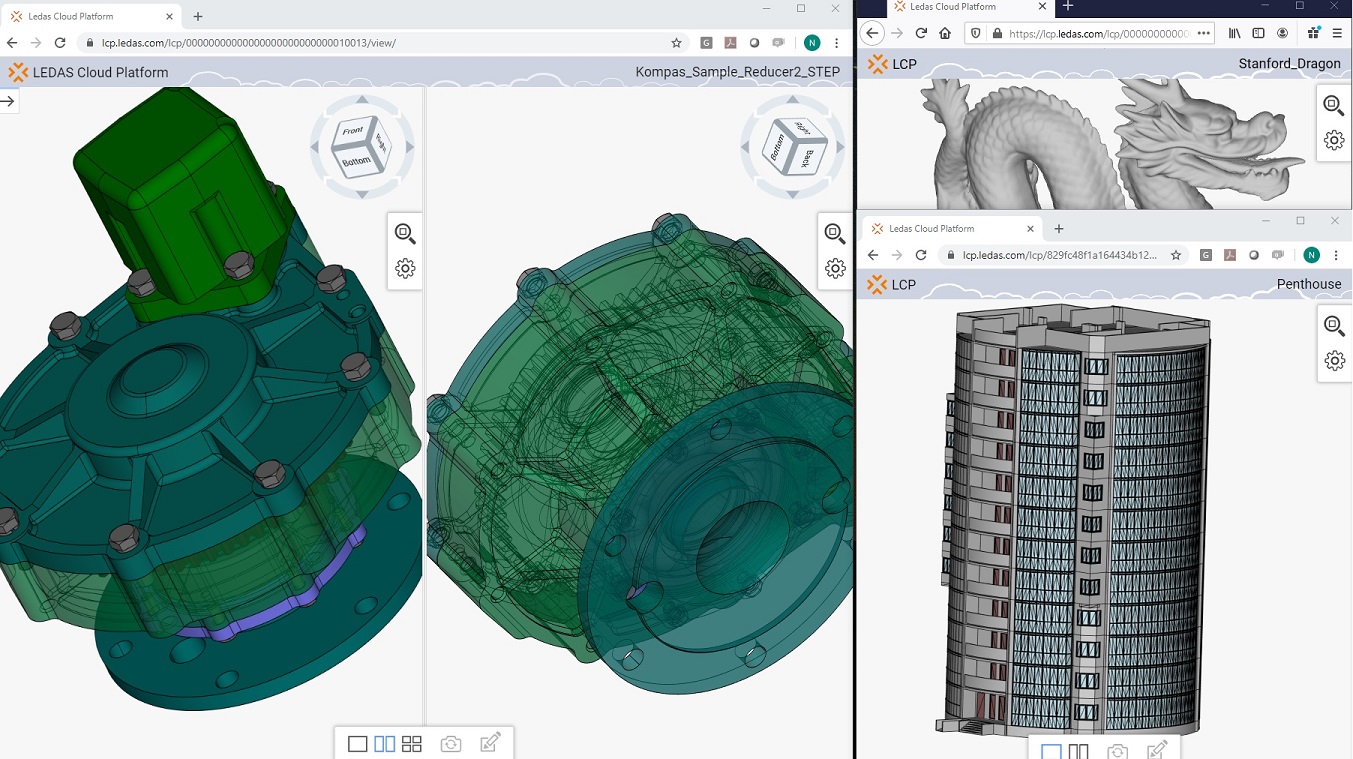 There are many online tools available for banking/accounting, conferencing/meetings, authoring/documents, and so on. But online tools for 3D modeling are not yet common among engineers, as design software tends to be conservative. Here too things will inevitably change.
So it is a smart move to invest in developing innovative 3D modeling solutions online, and then have them ready for our new work environment.
To help companies looking to develop their own cloud-based 3D modeling software, we offer LEDAS Cloud Platform technology. It is a multi-user platform designed for collaborative work, and is architected to work on private and public clouds. Development on LCP can be accompanied by our services to tailor the cloud platform to your end-user products, just as we have done for several our customers.
LCP has been found to work well in a variety of disciplines, such as in traditional 3D CAD and CAM, in AEC/BIM, and even in the new field of digital medicine. It includes fundamental functions for data storage, reading/writing, visualization, and navigation. Most 3D data types are supported, like CAD models, polygonal meshes, and point clouds. The data can be provided in a variety of formats, such as IFC, OBJ, STEP, STL, flavors of ACIS, Parasolid, and C3D kernels.
You can read more about LCP here.
Our license policies are flexible. We offer reasonable prices and have royalty-free arrangements in place for small and mid-sized businesses.
Hurry to contact us and catch up in working remotely!

Read more:
How LEDAS Set Up Remote-Working to "Flatten the Curve"
How LEDAS Teaches Via Distance Learning
What Statistics Can Tell Us About SARS-CoV-2 Test Results