Version 5.0 introduces new functions, improves speed by 30-100%

LEDAS Ltd today announced the availability of version 5.0 of LGS 3D, its powerful geometric constraint solver. As a core technology component of CAD/CAM/CAE software, LGS 3D is used to implement geometric, dimensional, and engineering constraints in applications involving assembly design, motion simulation, and direct modeling.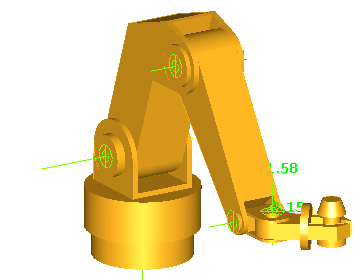 Version 5.0 improves on its performance, introduces several new functions requested by LEDAS customers, and enhances the quality of its solutions.
Improved Performance
The move-under-constraints function allows users to drag one or more geometric objects interactively, while LGS 3D solves the constraints dynamically at each intermediate step. This makes it easy for users to adjust their designs, and to explore the kinematics of complex mechanisms. The new algorithm for adaptive calculation of move-under-constraints in LGS 3D 5.0 speeds up this function by 100%, on average.
LGS 3D can deal with inconsistent problems, and with version 5.0 inconsistent models are processed 30% faster on average, thanks to minimizing of the number of iterations to solve.
Extended Functions
In some design contexts, users need to know whether a particular constraint is satisfied. In previous releases, the only way to do this was to run the LGS 3D solver procedure, which proved to be time-consuming for large models. Version 5.0 introduces new functions that very quickly check if one or all constraints are satisfied.
The tangency constraint between cylinders and tori now supports the orientation attribute. Version 5.0 of LGS 3D now automatically detects the orientation attribute for coincidence constraints between circles and tori.
The distance constraint between two spheres now supports user- and application-defined help points. This allows users to measure distances between different combinations of the spheres' sides.
Enhanced Solution Quality
The scope of some problem decomposition and heuristic methods has been extended to support models with non-rigid objects and variables.
The DOF (degrees of freedom) analysis introduced with the previous version of LGS 3D has been improved in version 5.0. The number of spiraling DOFs is minimized whenever possible.
LEDAS developers also eliminated several bugs reported by customers.
About LGS Software
Since the first commercial release in 2004, LGS 2D and 3D software components have been licensed by a dozen CAD/CAM/CAE vendors, who have embedded the components into their applications successfully.
The 2D and 3D geometric constraint solvers are used as parametric engines in applications involving 2D sketching and drawing, 3D direct modeling, assembly design, motion analysis, and other. LGS 2D and 3D are cross-platform software packages running on 32- and 64-bit versions of Windows, Linux, Mac OS X, *BSD, AIX, HP-UX, and other operating systems. Both solvers have a C-style API for easy integration into a broad range of software applications using a variety of wrappers, such as .NET, Java, and C++.
LGS 2D/3D supports the creation and modification of geometric models through explicit and implicit constraints. Points, lines, circles, ellipses, planes, cylinders, spheres, cones, tori, NURBS, application-defined parametric curves, and surfaces can be constrained. Objects can be fixed in the absolute coordinate system or relative to each other. Supported constraints include geometric relations between objects (coincidence, parallelism, tangency, and so on) and dimensions that specify the required values for distances, angles, and radii. LGS 2D/3D moves and rotates objects to positions that satisfy all constraints, yet minimizes transformations from initial configurations.
Other LGS functions implement advanced features of CAD/CAM/CAE systems, such as diagnostics of over- and under-defined parts of models, engineering variables and equations, help points, and tolerance management.
The "Lege'n'd 2D/3D" example applications are available as free downloads from the LEDAS web site. These sample models represent different kinds of 2D sketches and 3D assemblies. The applications can be used to test the functions, robustness, and performance of LGS 2D/3D. They were created with the Open CASCADE open-source application framework, and the source code is available to all licensees. To learn more about LGS 3D, visit the LEDAS web site at www.ledas.com/products/lgs3d.
About LEDAS
LEDAS Ltd. is a private, employee-owned software development company founded in 1999. It provides constraint-based design tools, component technologies, and software development services for the CAD/CAM/CAE/PDM market.
More information about LEDAS is available at www.ledas.com.
LGS is a trademark of LEDAS Ltd. Any other trademarks are the property of their respective owners.
Press Contact
LEDAS Marketing
phone: +7 383 3356 504 / fax: +7 383 3356 256
e-mail: info@ledas.com
www.ledas.com