For the first time, USA is #1 for LEDAS in customers and revenues
LEDAS Ltd., a leading provider of software development and consulting services for the CAD/CAM/CAE/PDM market, today revealed that 2017 saw a significant increase in the volume of research and development it provides to customers in the USA. For LEDAS and its software R&D services, the United States now provides the largest market share, surpassing previous country leaders Germany, France, Russia, and China.
Demand for software development services in the US is huge and for the most part is satisfied by US-based service providers. But now the US generates nearly 40% of LEDAS' revenues, with roughly 50% of revenues generated from other international customers. Germany is in second place, with the Russian share is between 10-15%.
"We are proud to be involved in innovative projects for American companies," said Alexey Ershov, CEO of LEDAS. "We consider this to be an important milestone, because while we have many customers and projects going on in Europe and Asia, we did not in our previous 18 years have this many customers in the USA."
LEDAS found success by diversifying its business significantly by attracting customers from more countries and markets. By broadening its market world-wide, the company secured its growth and minimized the risk to it and its customers. Customers are further protected through the professional IT insurance provided by AIG.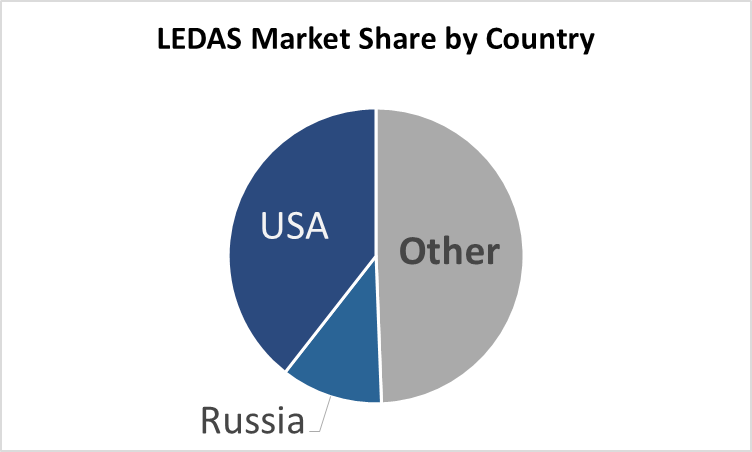 Also helping attract customers to LEDAS is the new LEDAS Cloud Platform (LCP). Customers find that they save money and speed up their development processes by employing existing high-quality software building blocks, such as LCP.

"We are especially pleased to note that several US customers decided in the last few months to license LEDAS Cloud Platform from us," says Ivan Rykov, CTO of LEDAS. "LCP greatly facilitates development of CAD solutions on the Web. Our partnership with C3D Labs also supports us well, because of the rich set of functions available in their C3D geometric kernel."

Overall, the primary reason for the success that LEDAS is enjoying is due to the broad CAD expertise it gained from working on a rich variety of programming projects. Over the last years, LEDAS staff has written geometric kernels, constraint solvers, mesh processing software, computational geometry engines, and other engineering software.

More information about LEDAS is available at www.ledas.com.