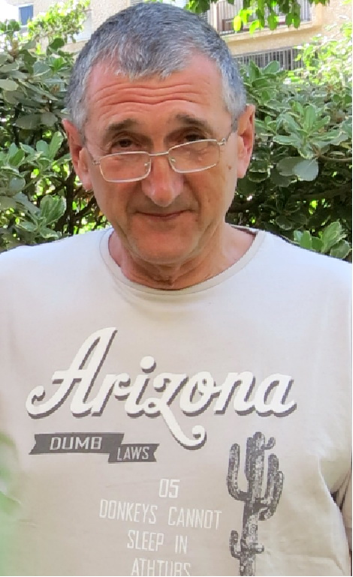 The CAD Society announced that David Levin is the winner of this year's CAD Society's Lifetime Achievement Award.

The CAD Society Awards acknowledge the contributions made by individuals that have affected and developed the CAD, engineering, manufacturing and architecture software industries. The Lifetime Achievement award recognizes a lifetime of outstanding technical and business contributions to the CAD industry.

David is well-known for his contribution in promoting Russian engineering software worldwide. He graduated from the Faculty of Mathematics at Novosibirsk State University, following which he was engaged at academic institutions in the fields of computational mathematics, software engineering, and artificial intelligence (AI). On the basis of his work, he published two books and was awarded a PhD. During 1985-1988, Dr Levin led the Applied AI Project as part of an ambitious Soviet IT innovation program. In 1989, he became the co-organizer of Russian Research Institute for Artificial Intelligence, and there he held the position of Director for Research for ten years.

In 1999, Dr Levin co-founded LEDAS Ltd., and became its CEO. In 2004, he organized the CAD/PLM portals isicad.ru (in Russian) and isicad.net (in English), and is now their editor-in-chief. He organized international CAD multi-vendor and user conferences isicad, which took place in 2004, 2006, 2008, and 2010. In 2011, Dr Levin stepped down as CEO to give more time to directing LEDAS as the Board Chairman.

David Levin was awarded in recognition of his outstanding life-long contributions to the profession of design and engineering, and his efforts to bring Russian software engineering to the world stage.

Here are the previous winners of the CAD Society Lifetime Award:
2012 — David Weisberg and Ken Anderson, computer graphics pioneers; David Weisberg wrote the famous work «The Engineering Design Revolution»
2011 — Richard Riff — the founder of Ford Motor Company's C3P program that defined a vision for PLM and CAD that the industry is pursuing to this day
2010 — Michael Payne — co-founder of PTC, SolidWorks, and SpaceClaim - each of these companies delivered paradigm shifts in the industry, contributing to fundamentally redefine the industry and delivering greater power and more affordable technologies to engineers
2009 — Richard Sowar — computer graphics pioneer, a co-founder of Spatial Technology that developed the ACIS 3D geometric modeler
2008 — Mike Riddle — developer of early CAD software for micro-based computers, formed the architectural basis for the earliest versions of AutoCAD®
2007 — Dean Kamen — the inventor of famous Segway Human Transporter and several medical devices
2006 — Russell F. Henke — corporate officer, board member or entrepreneur in electronic design automation (EDA); finite element analysis and Mechanical CAD/CAM, as well as in industrial and electronics manufacturing software
2005 — Ken Versprille — the inventor of NURBS
2004 — Stephen Wolfe — the editor of CADCAMNet, author, consultant, and practicing engineer
2003 — Carl Machover — computer graphics pioneer and cheerful evangelist of the transformative power of computer graphics
2002 — Joel Orr — co-founder and vice president of Cyon Research Corporation and is regarded as an expert and visionary in business restructuring, engineering automation, and the future of technology
2001 — Jason Lemon — co-founder of SDRC and International Technegroup Incorporated (ITI)
2000 — Patrick Hanratty — computer scientist and businessperson who is known as the "Father of CAD/CAM"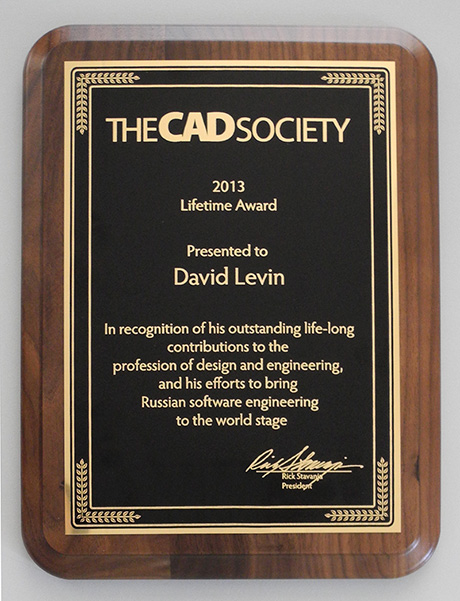 The CAD Society 2013 Lifetime Award
The award was presented at COFES (Congress On the Future of Engineering Software) held in Scottsdale, AZ (USA) last week.