Teigha-based development is applied in 3D mine simulation software Ventsim
Chasm Consulting, a developer of software solutions for mining industry, and LEDAS, the leading provider of CAD/CAM research and development services, today announced the finalization of joint work in development of advanced functions of Ventsim software related to visualization of DXF/DWG/DGN files.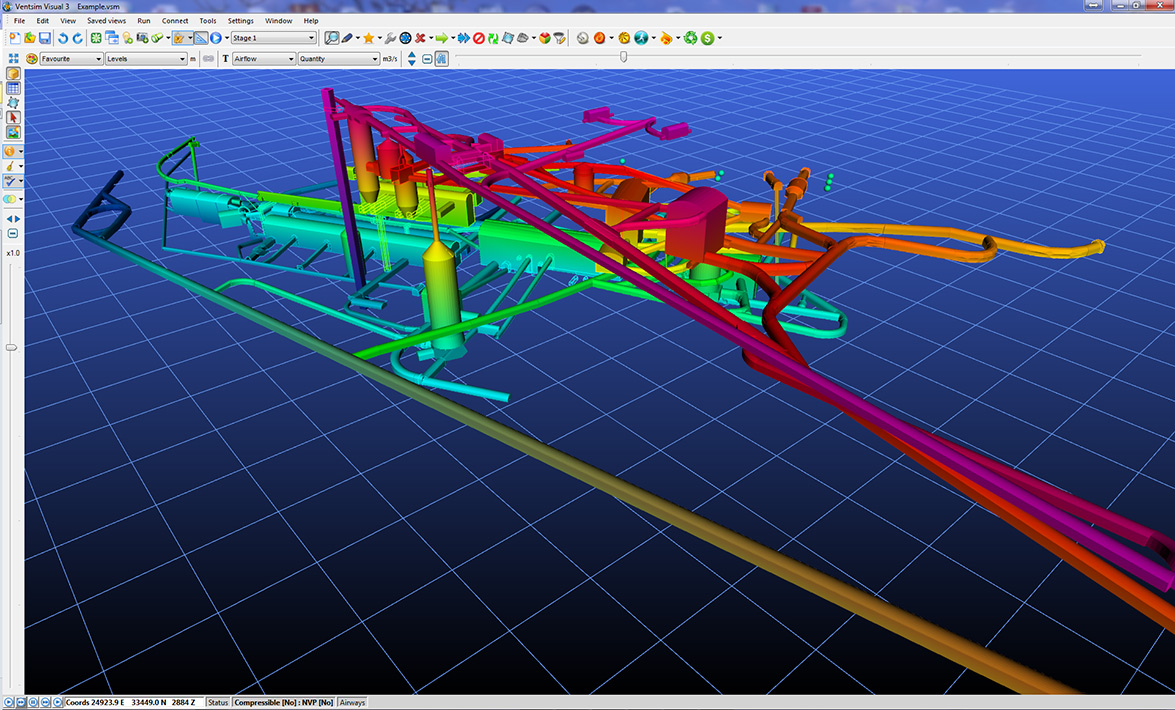 "Ventsim is a product dedicated to 3D simulation of mine ventilation and dynamics of physical parameters," said Craig Stewart, the founder and director of Chasm Consulting. "Ventsim and other our products are well known on the global market starting from late-'90s. Our users demanded support of DXF/DWG/DGN files in the software, so we evaluated existing solutions and decided to license Teigha as platform with best quality-price ratio. Then we contacted LEDAS as a service company with proven track record in development around Teigha."

Chasm Consulting develops and markets the Ventsim software product line. Ventsim products are underground mine ventilation simulation software packages designed to simulate airflows, pressure, and heat on the basis of 3D model of a mine. First Ventsim product was released in 1993 and has evolved over the years to become a leading software package in the ventilation industry.

"We are glad to expand the LEDAS expertise in the mining industry," said Alexey Ershov, chief executive officer of LEDAS. "In 2013 year we had two leads related to 3D modeling in mining, and one of them became an actual contract with Chasm Consulting that was recently fulfilled. It is just amazing that now our network of customers covers all the continents except Africa and Antarctica."

"It was rather small project since we done it on the basis of our expertise that make it possible to shorten cycle of development," said Ivan Rykov, chief technology officer of LEDAS. "We consider our expertise in DXF/DWG as one of important points in our portfolio of software development service provider. LEDAS started building this expertise in 2010 by a joint project with ODA on geometric constraint support in Teigha, continued with strategic alliance with Bricsys, delivering about ten projects dedicated to DXF/DWG support."
About Chasm Consulting
Chasm Consulting develops, sells and supports Ventsim mine ventilation software products. Support services include setting up new mine ventilation networks, optimization of mine environmental conditions, consulting on reducing ventilation costs, expertise of new mine projects or extensions to existing projects, and organization of Ventsim training courses, specifically tailored to customer needs.
About LEDAS
Founded in 1999, LEDAS Ltd. is a private, employee-owned Russian software company. LEDAS is best known for the development of constraint-based design tools and corresponding technological components. The company provides a wide range of high-quality software development and consulting services to the CAD, CAM, CAE, and PDM markets. LEDAS operates in the world-famous Novosibirsk research center, and has close contact with Novosibirsk State University. For more information, please visit company's Web site at ledas.com.


Press Contact
LEDAS Marketing
Tel.: +7 383 335 6504
Fax: +7 383 335 6256
E-mail: info@ledas.com
Web: www.ledas.com