JETCAM International s.a.r.l. today released version 18 of its award-winning CAM and nesting software, featuring a new interface, new high performance nesting engine and its flagship Automatic Sheet Processing feature for punching machines.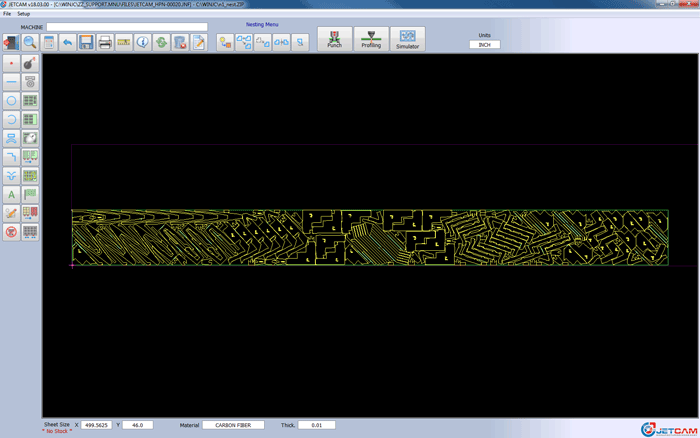 The new user interface draws much of its styling from JETCAM's CrossTrack product, and focuses on reducing the mouse movements a user has to perform during day-to-day operations. All file management and tabular data views have been improved with new controls, and general performance enhancements have been made throughout the interface.

Automatic Sheet Processing, available for all Expert Premium users, allows for completely automatic skeleton destruction, unloading of parts, along with common punching/shearing. Said Martin Bailey, General Manager; "ASP marks a major step forward over traditional approaches. Users have the choice of applying tooling on the part, on the nest or a combination of both. They can choose to respect tooling on the part, such as parts where 'taught' tooling has been applied, or they can simply override previously applied tooling. With one click users can automatically tool an entire nest, destroy the skeleton, and apply common punching, macro unloading, microjointing and right angle shearing processes."

In v18 JETCAM has further enhanced its optional high performance nesting module. In addition to improvements to nesting efficiency it now also takes advantage of multi-threading. With multi-core processors coupled with hyperthreading often including up to 16 usable cores this delivers much more efficient nests in a fraction of the time.

In addition to all new help systems an updated F2 video help system is also available for free download. Including over 140 short videos, it covers all main areas of the software. The user simply hovers the mouse over a button and presses F2 to view a short tutorial video on the desired function.

Version 18 includes many other features and enhancements across the application, including new Right Angle Shear logic enhancements and new routing functionality. Expert Lite users now also benefit from functionality previously only available in higher versions, such as CAD filtering.

Martin Bailey added; "v18 is as major a step for us as going from DOS to Windows back in the 1990's. Automatic Sheet Processing and the new user interface alone will make significant improvements to a users' day-to-day experience, but with literally hundreds of changes across the board we believe that this release will deliver substantial benefits to every user."
Availability
Expert V18 is available for immediate download from www.jetcam.com and is supplied free to all customers under a current maintenance contract. Existing high performance nesting users have the option to upgrade to the new module.