New LGC 3.0 compares revisions, simplifies assemblies, and removes duplicates
LEDAS Ltd., the developer of CAD component software and provider of development services for the engineering software market, today announced that version 3.0 of its LEDAS Geometry Comparison (LGC) software is now available. The new release is dedicated to efficiently processing big sets of 3D CAD data, quickly determining any and all differences in the geometry.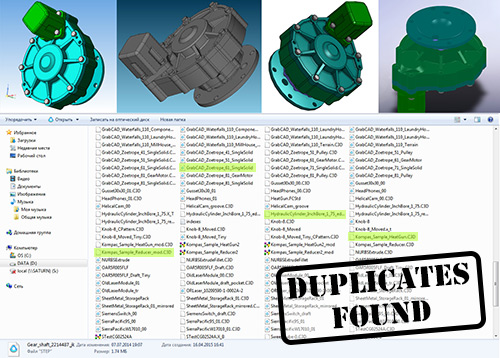 Copies detected by LGC in the work folder typical of a mechanical engineer

LEDAS Geometry Comparison (LGC) technology makes it possible to compare the geometry of 3D parts and assemblies, comprehensively finding all of the differences between similar looking models, and then reporting the variations to users.

The new version of LGC provides users with ability to efficiently find 3D models that share the same geometry and topology, even when models are rotated and moved with respect to one other. LGC's efficient processing of large sets of models is based on the indexing technology developed in-house by LEDAS. Searching for duplicates is clearly an important exercise in removing excessive copies from parts libraries.

"The idea behind release 3.0 was to make the processing of big bunches of CAD files even more efficient than before," said Nikolay Snytnikov, COO of LEDAS. "This is important in PDM use-cases, such as checking all revisions made to the same model. Our technology now makes it possible to restore the structure of imported assemblies, thanks to LGC's ability to find identical components and hunt down duplicated geometric data."

"With this 3.0 version, LGC is stepping into the market of 3D search solutions, starting with some practical use-cases that are of the greatest value to customers," said Alexey Ershov, CEO of LEDAS. "We are providing the know-how to implement advanced search modes based on user-defined criteria."

LGC is a component available for licensing to CAD, CAM, CAE, PDM, and PLM vendors for integration into their design and data management software. The cost is minimal to end-users, making this software unique on the market.
About LEDAS
LEDAS Ltd. is a private, employee-owned software company founded in 1999. It is well-known for its development of constraint-based tools and other component technologies for the CAD, CAM, CAE, and PDM markets. LEDAS also provides R&D and consulting services in the field of engineering software. More information about LEDAS is available at www.ledas.com.
Press Contacts
phone: +7 383 3356 504
fax: +7 383 3356 256
email: info@ledas.com
web: www.ledas.com