CAD Software Solutions efficiently compares 3D geometry in Inventor using LGC technology
LEDAS announced today that CAD Software Solutions has licensed LGC (LEDAS Geometry Comparison) technology for developing Inventor Plug-in. LEDAS is a developer of engineering software and provides software development services to the CAD/CAM/CAE/PDM/PLM market. CAD Software Solutions develops CAD tools for working efficiently with large models and assemblies.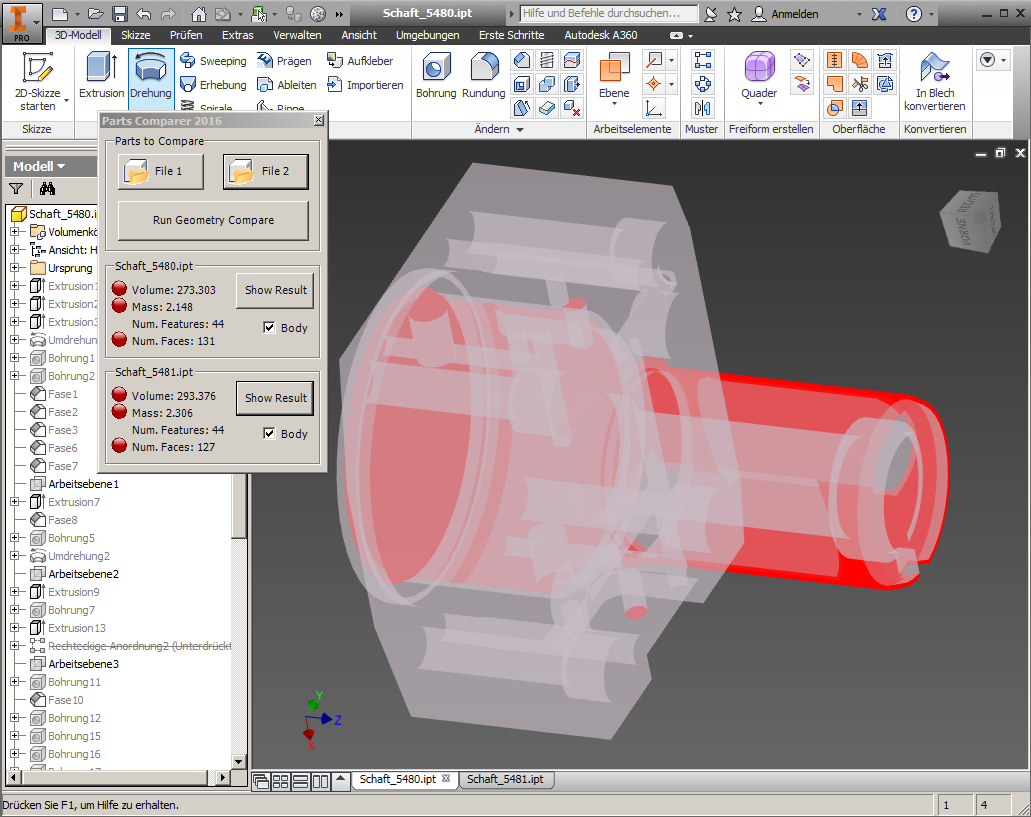 Differences being found in two similar-looking models in new LGC-based Inventor application
About Inventor Plug-In
CAD Software Solutions developed its new LGC-based 3D comparison software for making fast and user friendly comparison inside of Inventor from Autodesk. The company plans to deliver Inventor Plug-in to the market this year. Inventor Plug-in is the first software based on LGC being delivered to end-users by CAD Software Solutions. The company plans to consider other CAD platforms for further LGC-related development.

"Developing Inventor-based software is our core competency, and so we have major customers from the mechanical design industry using our other software," said Paul Schuepbach, CEO of CAD Software Solutions. "We tested LGC for several months, focusing especially on large models and assemblies provided by customers. The results were very positive, confirming to us that LGC is the best choice for our brand-new application."

"While several CAD companies already use LGC on a commercial basis, this is the first time we have made a public announcement of an LGC license agreement," said Alexey Ershov, CEO of LEDAS. "This is very important for us, because we are glad to be cooperating with CAD Software Solutions to extend the technology in additional directions, such as 3D parts search."
About LEDAS Geometry Comparison
LEDAS Geometry Comparison makes it easy for developers to implement comparisons of 3D models, clearly pinpointing differences. The differences are shown as groups of modified faces. The plug-in supports an extensible set of open and proprietary 3D part and assembly CAD formats. As cross-platform code, LGC runs on 32- and 64-bit Windows and Linux, in traditional and parallel MPI (message passing interface) versions. For more information, we invite you to visit ledas.com/products/geometry_comparison.
About LEDAS
LEDAS is a private, employee-owned software company founded in 1999. It is well-known for developing constraint-based tools and component technologies for the CAD, CAM, CAE, and PDM markets. LEDAS provides R&D and consulting services in the field of engineering software. More information about LEDAS is available at www.ledas.com.
About CAD Software Solutions
CAD Software Solutions is a private Swiss software company specializing in computer-aided design and a member of the Autodesk Developer Network specialized in Inventor customization. It focuses primarily on core technology for simplifying the use and visualization of large data sets in CAD assemblies and parts via Web and cloud apps. The company places a strong emphasis on mobile devices. You can learn more about CAD Software Solutions at www.morecam.ch and www.sparepartsplace.com


Press Contact
LEDAS
phone +7 383 3356 504
fax +7 383 3356 256
email info@ledas.com
web www.ledas.com