February 15, 2023 — LEDAS, an established R&D provider of engineering software, today reported that sales in 2022 grew by 11% over 2021. LEDAS positions itself as a leading provider of software development services in six areas crucial to the development of engineering software.
Sales by Sector
Of the six sectors LEDAS serves, the one growing fastest is Building Information Modeling (BIM), where earnings doubled year-over-year. The highlight is a new contract involving a challenging project for a customer in the European market. The project provides users with full-scale BIM modeling in both desktop and Web environments.
The three sectors most important to the company — 3D modeling libraries and engines, CAM and additive manufacturing, and digital medicine — each typically generate 20-30% of the company's income. The other areas of expertise are 3D Web applications and platforms, BIM, and traditional computer-aided design (CAD). The former increased revenues by 1.5 times, and is in fact not specific to any one industry but is about the technology. So LEDAS projects involving 3D Web technology are found in domains as varied as clothing design, medical treatment planning, BIM, and manufacturing cost estimation.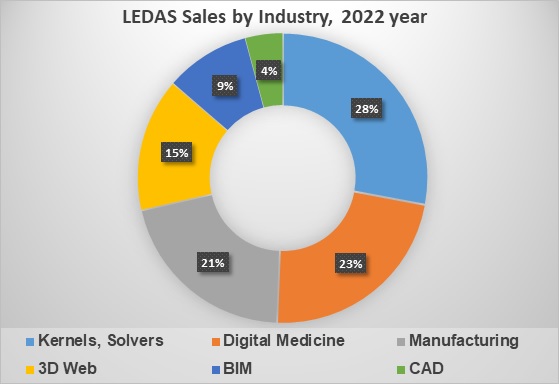 Overall, the largest source of revenue continues to be from LEDAS' 3D modeling engines: these kernels, solvers, and libraries are areas in which our software developers have long-term expertise that is unique in the industry. Sales of 3D modeling/libraries flourish thanks to several multi-year contracts in developing 3D modeling kernels and 2D and 3D geometric constraint solvers for customers.
Sales By Geography
As a result of the large BIM contract, LEDAS' sales in the EU market area increased to 33% of all sales. This places Europe in second place to first-place North America (39%) for the sixth year in a row. East Asia, at 18%, is in third place.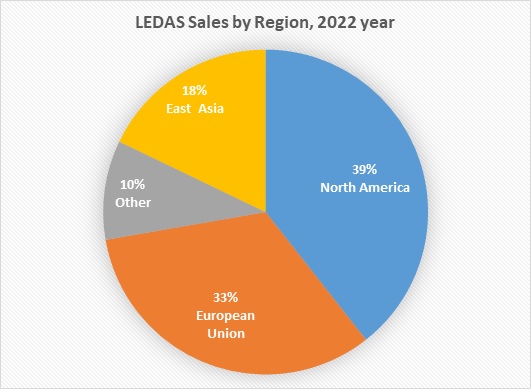 To better serve its markets worldwide, LEDAS placed new servers and related technical infrastructure in Frankfurt and Hong Kong, along with launching localized versions of the LEDAS Web site in French and German.
Landing new customers worldwide and extending long-term contracts with existing customers helped LEDAS to reach the mark of 100 employees working in-house for the first time. More than 80% of the entire LEDAS team consists researchers, developers, and quality assurance engineers working directly on new software products and technologies for our customers.