LEDAS today reported that 2021 was the third year in a row in which the software development company grew its revenues by more than 15%. Among the sectors served by LEDAS, the largest increase came with its sales and services in 3D kernels and constraint solvers. Here, sales in Q4 grew 30% over the same quarter a year earlier.
LEDAS is a leading provider of software research and development (R&D) services for several sectors in the global engineering software market. The three sectors contributing the most to company's income in 2021 were
Digital medicine — made up 30% of LEDAS revenues in 2021
3D kernels, constraint solvers — 29%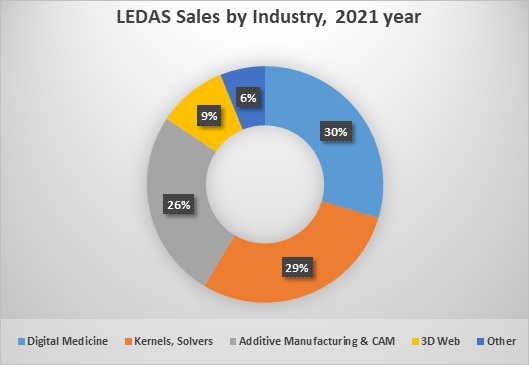 In the other areas of LEDAS' expertise — 3D Web (9% of LEDAS revenues), BIM applications, and CAD — projects in the pipeline are likely to foster sales increases during 2022. LEDAS also has the potential to make further inroads in 3D machine learning and in the mining, oil, and gas industry. (Non-disclosure agreements signed with most LEDAS customers do not permit the company to report names of vendors or details of projects.)
In terms of the regional B2B markets in which LEDAS operates, number one for a fifth consecutive year was North America, representing 47% of LEDAS' total income. LEDAS has five customers in the USA and a new one in Canada. Most of the projects here are dedicated to digital medicine, CAM, 3D Web, and 3D kernels and solvers.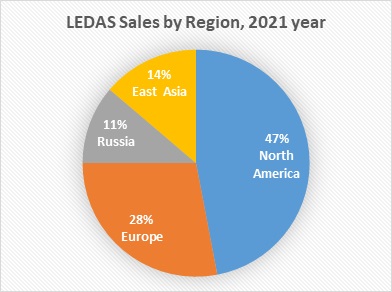 The European market is in second place with 28% of the income, thanks to customers in Germany, Switzerland, France, and Italy. East Asia holds third place with 14% of income, and Russia is fourth with 11%. Customers from all these regions work with LEDAS in projects involving 3D kernels and constraint solvers, BIM, CAM and digital medicine.

About LEDAS
For 22 years, LEDAS has operated in the global CAD market. It takes on ambitious R&D software projects that employ its staff who have especially high qualifications in mathematics and computer science. The company is best known for constraint-based tools and component technologies it developed for the CAD, CAM, CAE, and PDM markets.
The LEDAS success stories include projects completed for Dassault Systѐmes, Cimatron, and JETCAM. These companies put innovative products on the market using R&D services from LEDAS.
More information about LEDAS is available at www.ledas.com.